Michael Huynh Sick Of NYC, Plans Move Back To Vietnam Where It's 'Easier To Make Money'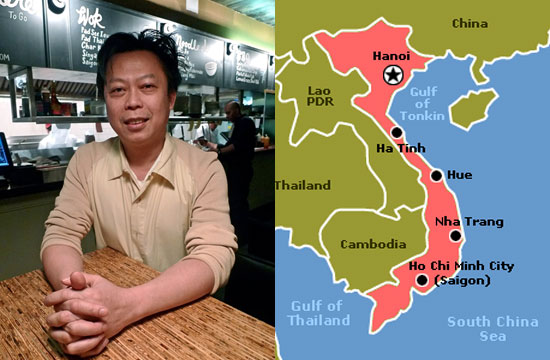 At some point we lost count of how many restaurants Michael Huynh, founder of the East Village's Baoguette and a gajillion other Vietnamese-inspired places, owned in his mini-empire. (It's not like he didn't have the opportunity for a massive, post-financial meltdown land grab: as he shrugged in a Village Voice article in 2009, that year, "every landlord [gave] up space for at least 25 percent cheaper. We should get it before next year, when we might get nothing.")
But when sexy hat woman Gael Greene caught up with him recently, she found that Huynh had been hit hard by the rent on his restaurants becoming too damn high. "Only the landlords make money," he told her, and as a result he's sold most of his restaurants except for the banh mi shops and a carryout place called BaoBQ.
So as one final huzzah in New York City, Huynh is opening up a final restaurant in the West Village (Bao, a "modern-classic" Vietnamese restaurant), and then, he's getting the heck out of the city and going back to Vietnam "for good." But why? Isn't New York City the coolest place in the universe, ever?
"I'm getting old, and I'm tired of the restaurant business in New York," he explained. "It's easier to make money in Vietnam right now."
Yes, the Motherland is a really great place to make a ton of money, from the ridiculous exchange rate, to the fact that everyone in Ho Chi Minh City really loves their Prada. If he opens a  Brooklyn Diner — complete with artisanal fare like "clam chowder, corned beef, [and] pastrami" on the menu — who knows? Maybe it will lure Vietnam's non-existent hipster population out into the sunlight.
[The Insatiable Critic via Grub Street]
Have a tip we should know? tips@mediaite.com