Michael Voltaggio And Ludo Lefebvre Battle, Foie-Style, In Protest Of Looming Ban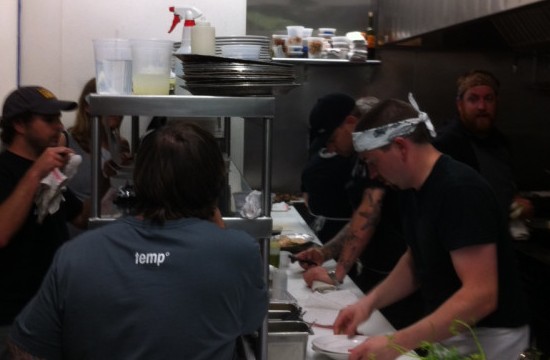 Last night at LA's famed restaurant Animal, Michael Voltaggio and Ludo Lefebvre faced off against Animal's Jon Shook and Vinny Dotolo in a contest similar to Iron Chef, but the secret ingredient is a controversial product about to be banned in the state of California.  Allez la liberté de cuisine!
The dinner, one out of four foie gras "battles" between NorCal and SoCal chefs, served to raise both awareness and money for the Coalition for Humane and Ethical Farming Standards (backronymed CHEFS), which is fighting the impending ban.  Per state legislation passed in 2004, the fatty goose liver will no longer be sold in California after July 1st.
Voltaggio, who teamed up with Lefebvre and local LA chef Roland Passot, tweeted photos of the dinner throughout the event, and tweeted his thanks to Animal afterwards.  Lefebvre, who tweeted photos of Voltaggio's butt "for the ladies", was vocal in his opposition to the foie ban. "TOUCHE PAS A MON FOIE GRAS," he wrote, linking to a shirt with that catchy French phrase printed on it.
The dinner cost $200 per person, and according to LA Weekly, Animal's sold out the quickest.  While no fundraising numbers from last night have been released, it definitely drew awareness from local animal rights protesters, who descended upon participating restaurant Melisse in Santa Monica.
Despite the dinner being billed as a "battle," no winners were announced… presumably as a metaphor stating that if foie gras is banned, no one wins?  Nah, they probably just wanted to cook a lot of foie gras and make it tasty.
Have a tip we should know? tips@mediaite.com