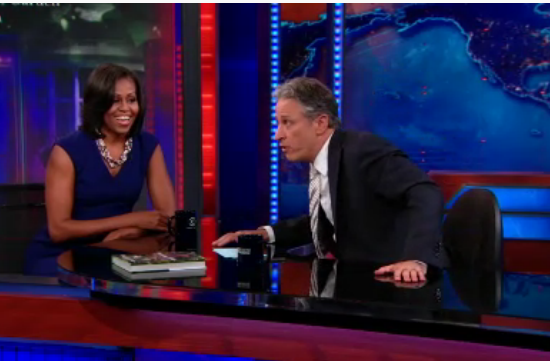 No press junket is complete without an appearance on The Daily Show, and First Lady Michelle Obama finished a long day of television by joining Jon Stewart last night to talk about her new book, American Grown.
Stewart immediately pointed out that the goal of ending childhood obesity is no easy task. "Wouldn't you have been more successful with, let's say, the colonization of Mars?" he asked. "As a parent of two children — unless this [White House] garden sprouts cheeseburgers? No."
But according to Michelle, it's a task that must be done: with one in three children overweight or obese and activity being eliminated from schools, the nation faces a health epidemic of massive proportions, correlating to rising health care costs and chronically lowered quality of life.
Part of her advocacy is educating people about the true extent of nationwide childhood inactivity. Watch what happens when Stewart learns exactly how many hours per day (7.5, to be exact) the average child spends watching television!
In the second part, Stewart goes back to politics and the 2012 campaign. Though her husband Barack faces a grueling election season, Michelle's focus on childhood nutrition and fitness has garnered her approval ratings "through the roof," Stewart mentions. "Your approval rating is like, ice cream, and your husband's approval rating, it's–"
"It's vegetables," Michelle interjected, to laughter from the studio audience — and no, she doesn't "wield" it over him in arguments.  She admits, however, that he has a difficult job. "Everyone [in the White House] is, like, 'Glad I don't have to do his job!'"
Given the recent gay marriage announcement, Stewart seized on that statement. "What about — uh — I'm just gonna throw this out–Biden?"
Her response:
Have a tip we should know? tips@mediaite.com