Michelle Obama Tells Her Kids Not to Instagram Their Food, and Conservatives Read It Very Differently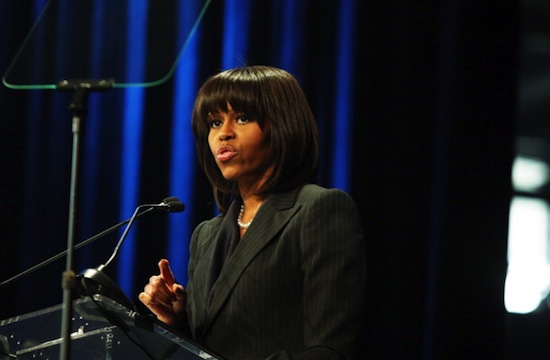 A lesson in taking words out of context, the Michelle Obama edition.
A little soundbite from Obama at a White House "female empowerment" event with former First Lady Laura Bush turned into another conservative heyday, all because our FLOTUS doesn't really care too much for your pictures of brunch. The conversation went something like this (via a transcript from the White House):
MRS. OBAMA: … when you think about social media — I mean, just listening to the hashtags and the Twitter accounts — I mean, that was a little nutty. (Laughter.) But it's how you continue the conversation.

MS. ROBERTS: And globalize it.

MRS. OBAMA: And globalize it. And young people are just more adept at that. And they can — as I tease my kids, I tell them I want them to use Instagram to take a picture of something really important rather than their food. (Laughter.) But young people can be a support to us. I mean, no one really cares what you had for lunch. (Laughter.)
Naturally, the emphasis came out to be: "No one really cares what you had for lunch." NUH UH, say the conservatives — you obviously do care about what we had for lunch, First Lady!
Our sister site Mediaite points out the time that FLOTUS did *gasp* post an Instagram pic of her meal. Even the Washington Post, which notes that the Obama and Bush "also talked about far weightier matters,"still comes down on the side of "banning food selfies." Because that's the takeaway from a female empowerment event, right? Not about the fact that we should "fight for our girls" or that "women are smarter?" Just going to shame the First Lady, and really all of us, all about our food choices and culture and policies?
Nahhhhh.
[White House, Mediaite, Washington Post]
RELATED: Michelle Obama Goes After Congress, Potatoes in NYT Op-Ed
Reports: 'Industry Interests' May Rip Apart School Nutrition Standards, Sam Kass Is On It
Have a tip we should know? tips@mediaite.com