Michelle Obama Launches Campaign to Get You To Drink More Water, Bloomberg Weeps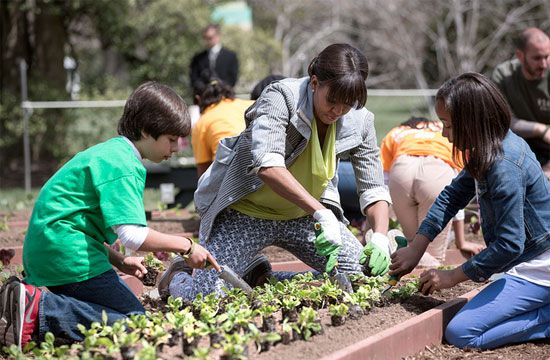 If vegetables weren't enough, Michelle Obama, siting high atop her throne of kohlrabi, and Sam Kass, the executive director of Let's Move! and garden-variety hottie, launched a new public health campaign today. Its goal: getting children to drink more water.
According to Obama Foodorama, Obama has teamed up with private sector companies to encourage people to drink just one more glass of water per day, and cut down on other sugary, obesity-causing beverages. By that, she probably means soda. Allegedly, drinking water is very good for you, and will not do things that soda does, like 1) melt bones 2) rot teeth 3) maybe cause cancer (maybe), and 4) definitely causes obesity.
The last time someone tried to ban soda, it didn't go so well. (Sorry, Mikey Bloombs.) Instead of actively campaigning against drinking soda, however, she's partnered with multiple beverage companies to blanket the country with pro-water messaging — and counts prominent soda corporations Coca-Cola and PepsiCo  among them. (Then again, they are the makers of Dasani and Aquafina bottled waters, so at least some soda lobbyist is getting paid.)
Our biggest question: will Mark Bittman relent and drop his bitter feud with Beyoncé, who serves as both a spokeswoman for the Let's Move! campaign and a $50 million face for Pepsi? (Answer: probably not, just because Beyoncé is still profiteering from pushing sucrose.)
RELATED:
Why Mark Bittman Hates Beyoncé
CDC: Michelle Obama (And Chefs By Extension) Helped Lower Childhood Obesity Rates
Michelle Obama's School Lunch Plan Overhauled To Include More Meats And Grains
Have a tip we should know? tips@mediaite.com