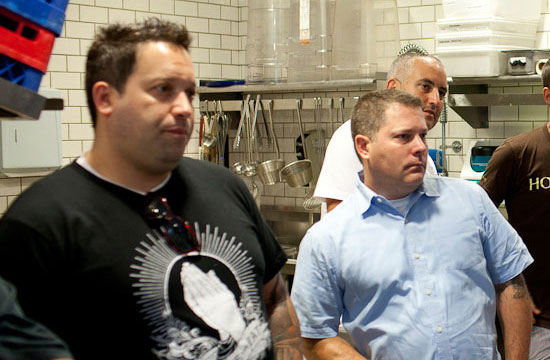 Mike Isabella, fresh-faced from his recent experience at the James Beard Foundation's recent Policy Boot Camp, decided to sit down recently and write up his experiences from his weekend jaunt for The Washington Post.
"Spending three days at Blackberry Farm with 14 other chefs in association with the James Beard Foundation is my kind of summer camp," he wrote, and you can practically see the guy talking into a Dictaphone. "A gorgeous resort in the Great Smoky Mountains, a bounty of vegetables, housemade cheese and, of course, lots of bourbon. You know what I'm sayin'?"
But after all the chef-y stuff is out of the way (complete with photos of the event,) Isabella gets serious about speaking out on a number of issues:
Like me, all the chefs work with one or more organizations with a food-related cause. We work to raise money or awareness for issues surrounding food allergies, childhood hunger, obesity, access to better school lunches and so on.

Often we are asked to speak about more complex topics surrounding the food industry, and while we all work closely with farmers and purveyors, we aren't experts on all issues.

…Long-term, the participating chefs and the Beard Foundation are considering several options on how to move forward, but we all want to be an active part of an advisory council, knowing our voices and the support of the foundation are stronger together. We have all been e-mailing non-stop since we returned from the farm.
You can read his essay here.
[WaPo]
Have a tip we should know? tips@mediaite.com