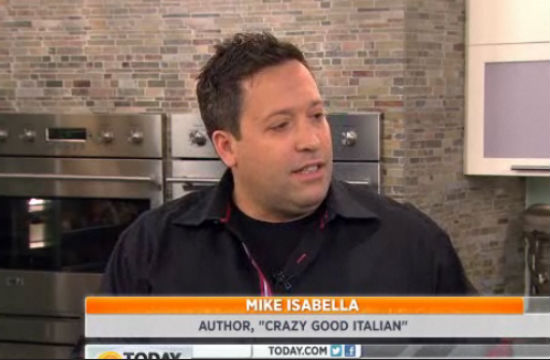 Top Chef All-Star and Life After Top Chef cast member Mike Isabella stopped by The Today Show this morning to demo some "Italian Finger Foods," which, we agree, sounds like the world's cruelest production company gave Snooki a cooking show.
But, in reality, Italian Finger Foods are just Italian-flavored takes on American tailgating classics. Apparently, Mike Isabella missed the memo on how we'll never need to tailgate again because last night was the death of American Football or something. At least, that's what's we've been hearing from the next desk over all morning long. Sports!
Anyway, Snooki food and a fundamental debasing of the great tradition of football aside, Mike served up an Italian-style chicken wing that swapped out Buffalo sauce for a kicked up pepperoni-tomato one, which, in all bizarreness, is precisely the same shade of orange as good old-fashioned Frank's Red Hot. How'd he do that?! Sadly, Mike's demo game isn't quite up to snuff; he was clearly nervous during his segment, and not just in that jittery, "'Ey! It's Jersey Mike!" kind of way.
For example, he uses the word "sweat" like, too many times to describe how you let the pepperoni, garlic, and onion "sweat out" in a pot before you compose the sauce. …Ew. Stop ruining pepperoni by associating it with stinky socks in our brains.
Check out the clip below, if the idea of tailgating again one day isn't still too painful for you.
Visit NBCNews.com for breaking news, world news, and news about the economy
Have a tip we should know? tips@mediaite.com