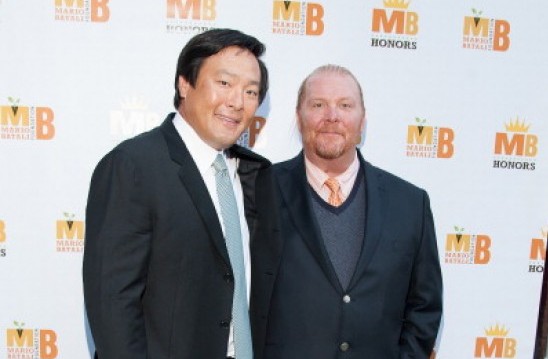 Today, a whole lotta celebrity chefs are playing a round of charity golf with former President Bill Clinton to raise money for the Mario Batali Foundation, but last night, they congregated at Del Posto to honor Clinton for his humanitarian work. We spotted Guy Fieri, Dana Cowin, Rachael Ray, Emeril Lagasse, Lidia Bastianich, and Daphne Oz making their way into the restaurant, and caught Ming Tsai after he bro-hugged Batali on the red carpet. All it took was a mention of Boston: "The Red Sox are doing horrible right now," he sighed. "I always go back to '04."
The Braiser: What are you looking forward to most from tonight?
Ming Tsai: First of all, Mario is just one of my best friends. Whatever chefs can do for each other, we always do. And of course, there are a lot of amazing causes that we all do stuff for. The Foundation's cause of literacy is fantastic. [I also] hopefully get to hang out with President Clinton for a little bit. I just met him for the first time this year at the Clinton Global Initiative. It's always an honor. I mean, to just listen to him speak in any forum is a great honor.
And you know, there's gonna be a lot of friends here that we all know. I have friends from here in New York, and from Mario, and Jimmy Fallon and The Edge should be here. And by the way — (giddily) I don't have to cook! I can't overcook anything today!
Speaking of President Clinton and his recent speech at the Democratic National Convention, will you be voting for that guy he happened to endorse? Oh, absolutely. I'm a big Barack Obama fan, and I certainly voted for Clinton as well. I say this, and I have lots of friends who are Republican, because half the country is, right? If you have money, take care of the people who don't have money. That's the bottom line. And we need to do that. And everyone in the world needs to do that, but you have to take care of people who aren't as fortunate as you. I'm not saying that you have to tax everyone more, no! I am saying, if you have money, take care of the people.
And — and take care of the Earth. (Deliberately) This is not a dress rehearsal. We have one shot at this earth. I have kids. My kids are going to be fine in this world. Their kids — this world's gonna be a much different place. If we continue what we're doing, environmentally, polluting, overfishing, all this stuff, it's going to be a very different world. That's not fair to our great-grandchildren.
Finally, what are your thoughts on the recent development of the Asian American quote-unquote "Hipster" chef? (laughs) I think it's awesome! Any way to get Asian food — which of course, I'm a little biased; I think it's the best, tastiest food out there — is awesome. I was just with Roy Choi at the Hawaiian Food and Wine Festival yesterday. He's doing all the tacos, and to have these hip chefs out there cooking very tasty food is key. I mean, I don't care if you're hip or not, if your food's no good, just start over until it's incredibly tasty. That's because we come from a base of Asian food. I mean, Asian food is incredibly tasty. It has the vinegars, it has the chilis, it has the garlic. [So guys,] power on. Keep going.
Have a tip we should know? tips@mediaite.com