Minnesotans Throw Nazi-Themed Dinner; This Is A Great Idea and Couldn't Possibly Go Wrong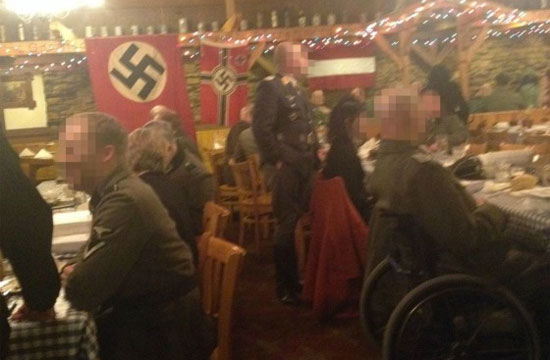 We can't believe we're about to say this: opening a Nazi-themed restaurant is one thing, but actually going to a Nazi-themed reenactment dinner is another. At least people can boycott a Nazi-themed restaurant. But if you go to a dinner where people are dressed as Nazis and swastika banners adorn the walls, as a German WWII-reenactment group recently did in Minnesota, you're gonna get a few questions. And by a few, we mean that the very first one will be "Why the flipping flip did you even think of flipping attending, you flips?!"
An anonymous source sent Minneapolis CityPages the above photo from a recent dinner at the Gasthof Zur Gemutlichkeit, a German-themed restaurant (can you not tell) that played host to a Christmas party held by the WWII Historical Re-enactment Society. Judging from the photo above, the purpose of the event was to pretend that they were rich members of the Nazi Party, socializing over strudel and beer while planning the Anschluss and thinking of eugenics.
Invariably, one of the group's members attempted to defend the party as just people dressing up for fun. No wait, here's the exact phrasing: "a Star Trek convention but for WWII enthusiasts."
If you wear a German uniform or a Nazi uniform, it's not like you're saying, 'I think Hitler was super cool' or 'I hate Jews' or 'I hate gays' or 'I hate democrats,'" [Joe] Boroom explains. "You're not there because you believe in what Hitler stood for — you're there to educate people about history, and a lot of that is so people don't forget. It's the same as wanting to be the bad guy when you're playing cowboys and Indians. There's an attraction to the bad side."
That's a great point, but celebrating the gaiety and funtimes of Nazi culture may not be the best way to make that argument.
[Minneapolis CityPages via Eater]
Image credit via Minneapolis CityPages
RELATED:
LA Restaurant Owners Pile on Yelp! for Letting Reviewers Call Them 'Nazis'
The Colonel Vs. Hitler: KFC Sues Thai Chicken Restaurant For Taking Its Logo And Doing This
Last Call: This Ain't Your Normal "Barbecue Shack Flying A Confederate Flag" Story
Have a tip we should know? tips@mediaite.com