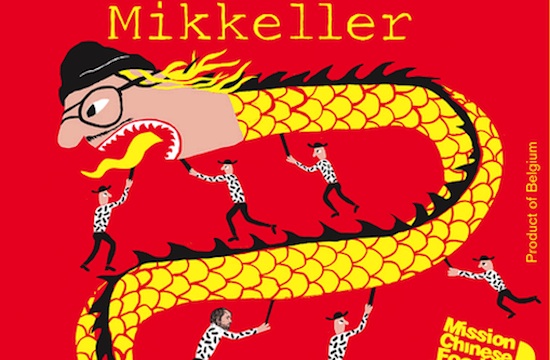 More chef and brewery collaborations! Our beer-loving heart can barely take it! Until we realize that it's at the Mission Chinese Food in San Francisco (after a slight hiccup with the New York outpost of Mission Chinese). CURSE YOU, GEOGRAPHY.
We're not surprised, as a Mission Chinese has been rumored to be happening for a while. But now that it's here, the world simply cannot take it. Especially because it's with renowned Danish brewery, Mikkeller (which opened a San Francisco outpost last year). Reports Inside Scoop SF:
Apparently, Danish brewer Mikkel Borg Bjergsø met the guys from Mission Chinese during many late night visits. They hung out. They ate Kung Pao Pastrami and Salt Cod Fried Rice. And of course, they drank beer. During the opening rush for San Francisco's Mikkeller Bar, the two parties tossed around the idea of actually working on a beer together. Well, roughly six months later, Mikkeler has itself a Mission Chinese Food beer. Right now, they just have two batches of approximately 20 bbl each (roughly 620 gallons).
Just so you know, that's not very much beer. So San Francisco beer freaks, get to Mission Chinese when the beer comes on tap, in time for San Francisco Beer Week February 7th.
The beer is a "smokey" German-stye pilsner, says Inside Scoop SF, made with Sichuan peppers. Yes, please. Now we want to know, Danny Bowien — will this beer ever make it to New York? We mean, we're not geography experts or anything, but we think New York is closer to Denmark than San Francisco.
(And yes, that's a bespectacled, Danny Bowien-lookalike dragon on the label. You're welcome.)
RELATED:
WATCH: Danny Bowien Shows Off New Haircut, Makes Famed Chicken Wings with Jimmy Fallon
Mission Chinese Gives Up, Will Likely Move After Awkward Two-Month Rat Closure
ndy Ricker and Pok Pok NY Have a New Collaboration Beer And We Are Pumped
Have a tip we should know? tips@mediaite.com