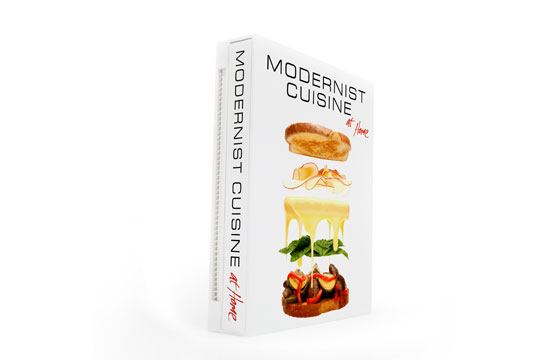 The publication of Nathan Myhrvold's seminal Modernist Cuisine last year heralded two major shifts in the culinary world. First, it was the first compilation of the history and techniques behind molecular gastronomy. And second, it made a ton of food-obsessed people supersupersuperjealous that they could never afford the six-volume, $650 book.
Until today! And by "today," we mean October 8th, when Myhrvold's second book Modernist Cuisine At Home comes out. The Cooking Lab announced today that the newest book is geared more towards home chefs of all skill levels who lack access to industrial restaurant gadgetry, but still weighs in at 456 pages of "lavishly illustrated" guides, reference tables, and over 400 new recipes.
And to all the haters out there who think that this cookbook, listed for $140 on Amazon.com, was written because the original didn't sell enough copies, the authors would like to inform you that "Modernist Cuisine sales remain strong, and we expect to continue selling thousands of copies per year for a very long time.
"Fundamentally, though, Modernist Cuisine is intended for a much smaller audience than Modernist Cuisine at Home," the book's website says in an FAQ. "Our first book has made a big impact in the world of professional cooking, and we hope this book will have a similar impact in the world of home cooking."
So for those who want to know what and where to buy the necessities for a modern kitchen, this is the book for you. For those who've always wondered if sous videis really as good as Casey said it was on the Season Five season finale of Top Chef, this is how you'll find out.  For those of you who just want to make a better grilled cheese sandwich, you get the idea — this will probably help you kick all those other grilled cheeses to the curb.
Have a tip we should know? tips@mediaite.com