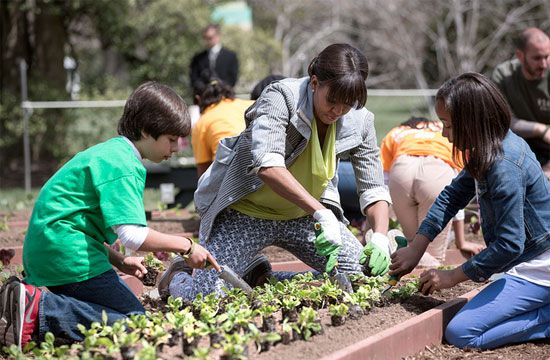 Last month, Michelle Obama and her Let's Move! team planted wheat in the White House Kitchen Gardens — a move set to  anger celiacs, perhaps, but otherwise uncontroversial. Uncontroversial, that is, until the recent revelation that her wheat might possibly be the result of genetically-modified Monsanto tinkering. (Dramatic noise.)
Now, the chances of that happening are quite slim, according to Obama Foodorama, but not outside the realm of possibility. The USDA recently discovered random strains of unapproved, genetically modified Monsanto wheat growing in an Oregon field — a discovery that led to countries suspending wheat trading with the United States until someone figures out what the hell is going on.
Of course, the White House never tells anyone where the President sources his food (to prevent things like assassination attempts via kale salad). Here's the part where we pin pictures and red string to a corkboard:
Sam Kass, President Obama's personal chef (and executive director of Let's Move), admitted last month that the "experimental varieties" of wheat planted in the White House Garden came from "a breeder who was breeding new varieties."
One of the two types of wheat planted in the garden (club wheat) is only grown in Oregon. (And the state of Washington, but close enough.)
And though Kass categorically denied the wheat's GMO status, saying "there are no genetically modified crops in our garden," it was before the discovery of the Monsanto wheat in said Oregon field. Here's a twist: the Monsanto strain was discovered after the farmer found he couldn't kill the wheat…with Monsanto pesticide.)
After the news broke about the Oregon farm, a White House rep stated that they had "no reason to believe" that Michelle Obama had planted genetically modified wheat, but haven't confirmed whether they've tested the wheat for DNA mutations.
There. We've given all our readers who believe that the White House kitchen garden is run by lizard people (which is a real conspiracy theory) a new subject to ponder on for the weekend.
RELATED POSTS
Sam Kass Gets Furloughed As Result of Sequester
Bill Yosses And Molecular Gastronomists 'Plotting' To Make People Eat Chemicals
Michelle Obama And Robert Irvine Team Up
Follow Tina Nguyen on Twitter @Tina_Nguyen
Have a tip we should know? tips@mediaite.com