Montreal Restaurant Critic Says Joel Robuchon Accusers Braver Than Lady Chef Sex Victim
Montreal Gazette restaurant critic Lesley Chesterman took to Facebook and Twitter, offering a counterpoint to the industry praise former Toronto pastry chef Kate Burnham received after going public with the year and-a-half of physical and psychological sexual abuse she claims to have suffered by three chefs at Weslodge restaurant.
Last night, Chesterman seemed to diminish what pastry chefs to all together, suggesting Burnham could've gotten a job anywhere "plating desserts" rather than tolerate abuse.
. @jensfuel this was posted on her Facebook, someone sent it my way. Happy to get her thoughts out there… Fwiw pic.twitter.com/VVfyZjVvPf

— Jen Agg (@TheBlackHoof) June 17, 2015
Chesterman then sent mixed messages this morning, arguing abuse of men is far more prevalent in restaurant kitchens, despite the critic's claims she was sexually harassed in a kitchen herself at a young age, and that Burnham should have sucked it up or quit rather than stick it out for a while only to go public when she couldn't take it anymore.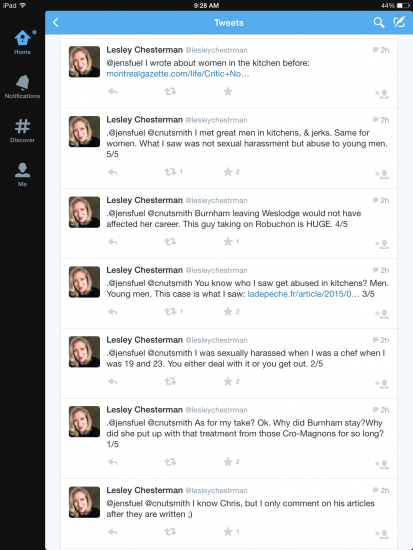 Chesterman then defended two male French cooks at Joel Robuchon's La Grande Maison à Bordeaux who earlier this year brought charges against the chef with the world's most Michelin stars, arguing they were doing something "HUGE" by making a real career-ending decision with public allegations, which seemed to suggest Burnham just wasn't in their class.
Per La Depeche (via Google Translate):
In a report aired on February 6 on the website of France Télévisions Francetvinfo a clerk anonymously and another, Franck Yoke, claim to have been subjected to "harassment," "bullying", "insults" ("dog "" You are shit, "" asshole ") and they would have been" forced to swallow salt water. "
The Black Hoof restaurateur Jen Agg, chimed in to remind everyone her Kitchen Bitches panel this September will address abuse men and women suffer alike.
Have a tip we should know? tips@mediaite.com