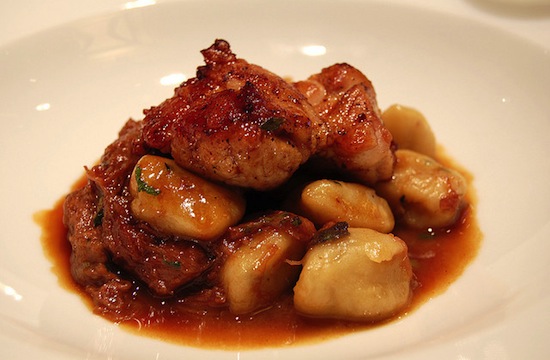 Huffington Post: Here's a (completely unattributed) list of all the "culinary buzzwords" that will be happening in 2014. So, are we to believe that sweetbreads, fluke (a flat fish), "hipster Asian restaurants" (COME ON) and "Jewish fusion" will be things in 2014? Also, kale is already a thing, so. Take this with a whole bucket of salt.
People: However, the food trends piece we can get on board with is that from Andrew Zimmern, who we think is dead on on just about all of them. (We are skeptical of a plant-based egg, but we digress.) More importantly than recognizing the power of the Cronut and the Ramen Burger, Zimmern highlights two major food issues that often get swept under the rug in these culinary trend pieces: overfishing, and the fast food worker strikes. Bravo, Zimmern.
Twitter: Bloomberg critic Ryan Sutton breaks down Per Se's truffle tasting menu with some fun words — "Zoinks!!!" "Wine is extra!" The cost: "$750!!!!," or $1,633 for two after taxes. That's a whole lot of green for some black and white truffles. Really honestly though, we wouldn't complain about some dry aged American Wagyu steak with black winter truffles (whatever winter truffles are).
Twitter: Also on Twitter, a pic of Aaron Sanchez's tattoos from a photoshoot with Inked magazine. That's … a lot of tattoos right there.
Business Insider: Now we know that of the now six 4-star restaurants in New York City, Mario Batali's Del Posto has the least expensive tasting menu, at $115 for five courses per person. Good to know, when we suddenly find ourselves flush with cash. HAHAHA just kidding, that time is never.
Lucky Peach: We know these onesies don't exist, but dear God we want and need to get this cheeky "Future Foodie" onesie for the babies on our Christmas list. Lucky Peach, make it happen.
Have a tip we should know? tips@mediaite.com