Nancy Silverton And Mark Peel's Legendary Campanile To Close; Jonathan Gold Mourns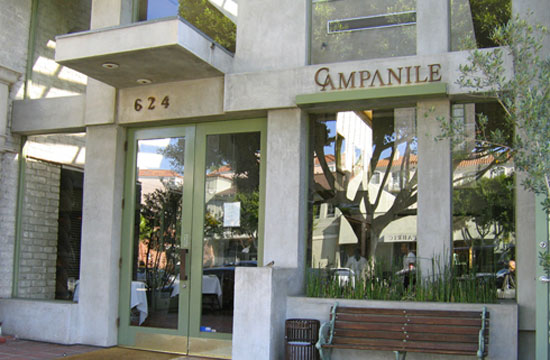 All the Los Angeles rumors were true: the legendary, 23-year-old Campanile, started by Mark Peel and Nancy Silverton (who eventually departed for Mozza), will close in December. (In its place, according to Eater LA, will be hot new thing Republique, with LA favorite Walter Manzke at the helm.) Since I've only eaten at Campanile once, I'll let someone who knows far more about its legacy — and has a deep, personal connection with it — speak about the restaurant's closure, and that someone is Jonathan Gold:
It is hard for me to be unbiased about the restaurant. In the few years of my adult life when I wasn't formally working as a fine-dining critic — I was writing the Counter Intelligence column, then mostly about ethnic restaurants, for The Times — my wife and I ate dinner in the bar two or three times a week. I worked on a Campanile cookbook with Peel, and my wife co-wrote "Breads From the La Brea Bakery" with Silverton. We were married in the back room of the restaurant; our family and friends feasted on suckling pigs roasted in the bread oven, and the pastry kitchen's Sumi Chang, who has owned Euro Pane in Pasadena for the last 15 years, baked a splendid chocolate wedding cake stuffed with Armagnac-soaked prunes. (I did review Campanile when it opened in 1989, before I met the chefs. But I never did write about the restaurant again. Peel and Silverton had that kind of effect on critics.)

It is hard to overstate Campanile's contributions to American cooking. It wasn't the first fine restaurant in the country to operate with a grill at its heart, but it codified the style, as well as the practice of reinterpreting simple dishes — steak and beans, Greek salad, fish soup — with first-rate ingredients and chefly virtuosity.
Read the rest of his timely and all-too-appropriate eulogy here, and enjoy Grilled Cheese Thursdays for me while you can.
[LA Times]
Have a tip we should know? tips@mediaite.com