Celebrate America By Watching The Nathan's Hot Dog Eating Contest, Which Is What The Founders Would Have Wanted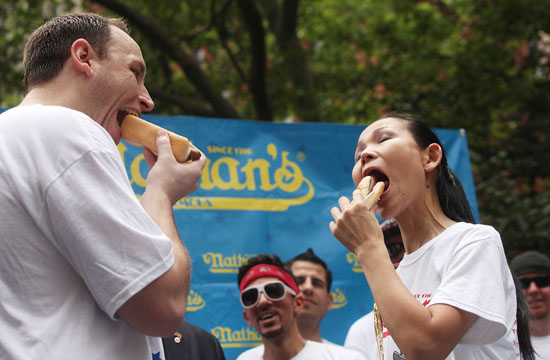 There's nothing more American than 1) gorging one's self to excess, 2) beating the pride out of your fellow man, and 3) cooking mysterious tube meat composed of separated animal parts.
Which is why the Nathan's Famous hot dog eating contest is an annual Fourth of July tradition! It's exactly how our Founding Fathers wanted us to celebrate the declaration of our independence from the British colonies. In fact, here are some quotes from historical documents that prove this point:
"Ambition Hot Dogs have its disappointments to sour us, but never the good fortune to satisfy us." — Benjamin Franklin

"It certainly is very desirable that a pacific disposition a hot-dog eater of great mass should prevail among all nations." — John Jay

"A national debt hot dog-eating contest, if it is not excessive, will be to us a national blessing." — Alexander Hamilton

"If I am to advance, the sooner I know it, the less uneasiness I shall have to go through." — Thomas Jefferson, on entering a hot-dog eating contest
Now that America's Founders have conclusively proven the hot dog's vital role in their everyday lives, we can get on with the show. The annual contest, held every year on Coney Island, will air here starting at noon. Did you know that Joey Chestnut won for six years in a row, and that last year, he ate sixty-eight hot dogs? If he beats that record, well, we should get him to eat rival Takeru Kobayashi next. Which is just what the founders wanted, too.
Have a tip we should know? tips@mediaite.com