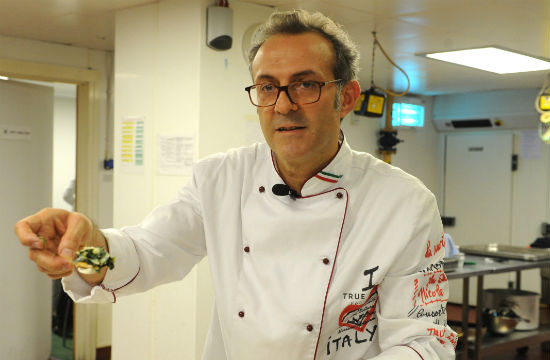 The new series even has one of the stars from Mind of a Chef on board.
Variety reports that the docu-series, A Chef's Table (which confuses us with PBS' A Chef's Life and just about every other TV show with 'chef' in the title' was announced by Netflix at this year's Toronto International Film Festival. The filmmaker behind the docu-series is David Geib, best known for his work directing and producing Jiro Dreams of Sushi (which if you haven't watched yet, stop what you're doing and get on Netflix NOW). We're officially intrigued now.
While Variety only says that it will highlight "culinary masters around the world," the lineup of chefs does have quite the international appeal (and some familiar faces):
Chefs featured in the docu-series are: Ben Shewry (of Attica Restaurant in Melbourne, Australia), Magnus Nilsson (Fäviken in Järpen Sweden), Francis Mallmann (El Restaurante Patagonia Sur in Buenos Aires, Argentina), Niki Nakayama (N/Naka Restaurant in Los Angeles), Dan Barber (Blue Hill in New York City and Blue Hill at Stone Barns in Pocantico Hills, N.Y.) and Massimo Bottura (Osteria Francescana in Modena, Italy).
Nilsson is already being featured in this just-premiered season of Mind of a Chef. (In fact, doesn't the whole thing sound eerily similar to Mind of a Chef?) Clearly, Netflix hopes to encroach on some of the food docu-series' Emmy territory, as Parts Unknown and Mind of a Chef keep racking up the daytime and primetime Emmy nominations — and wins. (Mind of a Chef earned seven Emmy nods just this year.)
From the looks of it, the six-part series will give each of the chefs his own episode. Add it to the list of binge-watching food TV.
[Variety]
RELATED: 9 Must-Watch, Binge-Worthy Food TV Shows This Fall
Your Weekend Plans: Mind of a Chef Season Two Now on Netflix
Have a tip we should know? tips@mediaite.com