New Details on Borderline Abuse on Your Favorite Reality Food Shows, Top Chef: Desserts and Hell's Kitchen
Details on Borderline Abuse on Your Favorite Reality Food Shows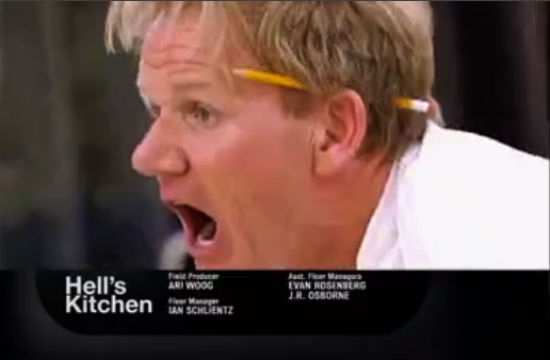 The New York Post is out to shed some harsh light on your favorite reality shows (like The Biggest Loser, a manic soft-of war against contestant's bodies), and the spotlight shines bright on some of our most-watched food reality TV shows. (Chris Cosentino was on to something.) Should the allegations prove true (which they probably never will be, thanks to stringent network and production contracts), all sh*t would come raining down and the world as we know it would be over. (Melodramatic much, but you get the picture.)
The stories come from Top Chef: Desserts and Hell's Kitchen, neither of which really surprise us (because who's ever going to trash Top Chef except for a measly spin-off that doesn't air anymore?). The hellish stories include face injuries, psychiatric holds, absentee hosts (Gordon Ramsay), ingredient rigging, and garbage pasta. All very, very bad.
The low-points of Top Chef: Desserts are anything but pretty, as former contestant Seth Caro detailed how he suffered a panic attack on set, which led producers to take him to a mental hospital. "… I was put on a 5150 [involuntary psych hold] for three days," Caro told the Post. "I was in my chef's jacket and socks. I didn't have my phone. No one from the network or the show came to see me." From the Post:
Today, Caro says, his life is ruined: He can't get a job in the culinary industry. He's in the process of changing his name so that potential employers, friends and significant others won't be able to Google him. His season, like so many others, lives forever on the Internet.

"They are playing with people's lives," he says. "I've been destroyed by the experience."
Caro said his fellow cast-mates suffered from "Stockholm syndrome"and "fell in love with their tormentors," while he wondered if the show was all some sort of sick experiment.
Former contestant of Hell's Kitchen Jen Yemola shared how the production was rigged from the start, including challenges and recipes. Said another former contestant, Tek Moore, to the Post, "Production would come in and mess with ingredients, swap out your salt and sugar — so people would look like complete f—king assholes." Ahhhhhh, that explains a lot. Eventually, Yemola cooked pasta from the garbage under pressure, which got her axed from the show. From the Post:
Yemola made it to third place, but returned home a broken person. "I didn't get my period for six weeks after I left," she says. 'My doctor said it was stress. I became borderline suicidal after the show — certain things about it made me feel poorly about myself."

To this day she's mortified by the pasta incident, yet Yemola says she'd still consider doing another reality show.

"Any exposure," she says, "is good exposure."
Yeah, at what cost exactly?
Moral of the story: only watch MasterChef Junior, where producers (pray-to-God-baby-Jesus) don't ruin young lives just yet. If there is a future expose on the hell that is MasterChef Junior, we are denouncing our religion and everything that is holy to us.
Have a tip we should know? tips@mediaite.com