New Lawsuit Alleges Tom Colicchio Violated Labor Laws at 'wichcraft (UPDATED)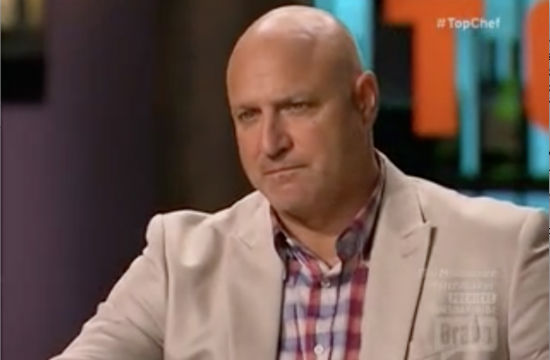 Eeeeeeeeesh. We don't like.
A new lawsuit alleges that Tom Colicchio and his partners in the yummy sandwich chain 'wichcraft violated state and labor laws "by allegedly paying workers below minimum wage, docking tips and denying them overtime," according to Page Six. Pretty bad accusations, but the allegations of discrimination against its female workers, if true, are that much worse.
From Page Six:
The suit also accuses the restaurateurs of running a boys' club, with plaintiff Lourdes Rivera saying her bosses turned a blind eye in August after a male co-worker took video of her changing in a locker room.

She alleges her bosses "advised" her not to contact cops — and then deleted the evidence. Both Rivera and co-plaintiff Emma Rivera – the only female delivery workers at the shop — also allege they're regularly called a "whore" and "bitch" by their manager.
ERGH NO NO NO NO NO. This is the kind of lawsuit that makes us want to put our fingers in our ears and go NAH NAH NAH NAH until it all goes away … right? We can only hope none of this is true.
Colicchio responded to the Post when asked to comment and said "We are looking into the allegations and will respond accordingly." In any case, it's rough being a restaurant worker.
UPDATE: Colicchio responded to the allegations, denying that managers allegedly took tips as detailed in the lawsuit. "And as for the 'boy's club' thing, 16 of our 34 managers are women, so that's just not true," Colicchio told TakePart, also noting that the male mentioned in the lawsuit for filming his coworkers changing was fired immediately. TakePart also notes that 'wichcraft received a gold star from the Restaurant Opportunity Center for its treatment of its employees.
[Page Six]
Have a tip we should know? [email protected]