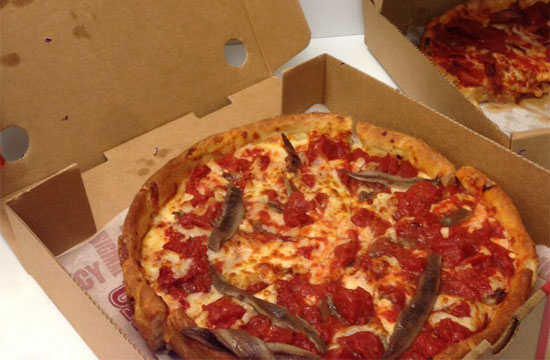 Last weekend, The New York Times' One-Page Magazine editors published this year's "The Meh List," on which landed a hotly contested item: pizza. Pizza was determined to be "fundamentally meh" in a long defense posted in response to the list's backlash: "good, but rarely great; fine, but seldom bad." We were sort of on-board with their argument until this happened:
"I grew up in a midsize city in Northern California called San Francisco. Much as in New York, there are businesses there where you can order a slice of pizza from larger, premade pie sitting in a display case. And just as in New York, it usually tastes pretty good. Unlike New York, however, San Francisco doesn't exactly abound with pies with buffalo chicken and ranch dressing or entire chicken Caesar salads just dumped right on top of them. So I suppose New Yorkers obsessed with the notion that it's impossible to find edible cheese-bread outside the five boroughs do have a point, provided this is what they're talking about."
THIS IS WHAT WE'RE TALKING ABOUT. This is all we're EVER talking about! Where else can we find face-sized slices topped with multicolored circles of mozzarella, tomato sauce, and pesto so garlic-y, it will instantly cure your hangover? Buffalo chicken/bacon/ranch pizza is the actual shit and readily available at tons of New York hole-in-the-wall pizzerias! If demanding it come standard as an option is wrong, we'd rather die than be right.
Maybe your BS San Francisco pizza is meh. Don't rope readily available New York mastery into your argument.
Have a tip we should know? tips@mediaite.com