British Tabloids Canonize Nigella Lawson Patron Saint Of Domestic Violence; American Columnists Advise Caution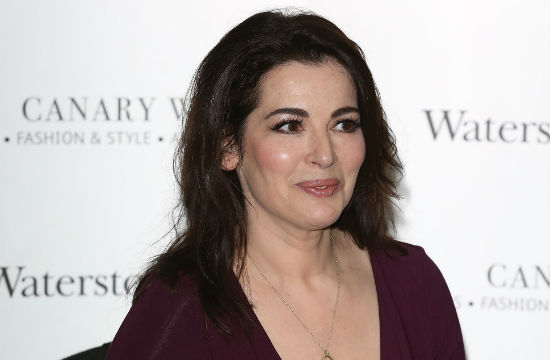 Both The New York Times and New York Magazine's The Cut have run op-eds on the Nigella Lawson domestic abuse scandal since her now-estranged husband Charles Saatchi announced that he was filing for divorce via tabloid, following the release of paparazzi photos depicting his hands around her throat during a public fight.
British gossip sources (as they do) have been running daily updates to the story with various and sundry "insider sources" giving details on the state of the couple's marriage since the story broke.
American columnists, however, apparently still-familiar with the Chris Brown/Rihanna makeup-breakup fallout, are cautioning against turning Nigella Lawson into a heroine against domestic abuse, especially considering she hasn't made a single statement since the photos were first released.
Writes The Cut's Maureen O'Connor:
"Among the many insidious psychological damages associated with abuse is the removal of a victim's control over the roles they must play in their domestic lives — servile wife, agreeable sex partner, selfless caregiver, etc. If Nigella chooses to be a hero, it would be a powerful role to take on. But until she indicates she wants and can handle hero status, it's just another role someone else is telling her she has no choice but to play. What if she isn't ready to be a hero? What if, as Saatchi says, the situation doesn't actually require one? If we praise Nigella for the split, will we feel justified in criticizing her if she goes back? As we discovered during the Rihanna-Chris Brown saga, that's probably the wrong tactic. Praising one outcome neither implies nor necessitates criticizing alternate outcomes, of course. (Nobody penalizes the bystander who fails at attempted heroism, nor ridicules the kids who lost the spelling bee.) But turning Nigella into a cause — particularly while she is actively avoiding public scrutiny — is still a bad idea. It's unfair, it's too much pressure, and it's even a little rude. Let Nigella choose her own causes. She doesn't control her husband's actions or her fans' reactions, but she does control the words that come out of her own mouth, and right now, she isn't talking."
You can check out the rest of her op-ed here, and Sarah Lyall's NYT column "Nigella Lawson: Another Star Chef Becomes a Cause" here.
RELATED:
Nigella Lawson's Husband Blames Her For Choking Incident, Files For Divorce
Nigella Lawson Packs Up And Moves Out After Public Choking Incident
England's Deputy Prime Minister Walks Back Insensitive Comments On Nigella Lawson Scandal
Charles Saatchi Accepts Punishment From Scotland Yard For Nigella Lawson Choking Photos
Nigella's Husband On Choking Incident: Nothing More Than 'A Playful Tiff'
Nigella Lawson Allegedly Attacked, Choked By Husband In Front Of Diners
Have a tip we should know? [email protected]