Nigella Lawson Accused of Using Cocaine, Pot, and Prescription Pills Daily for a Decade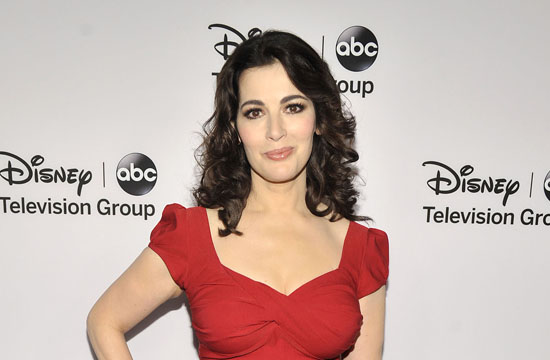 There are a lot of things going on here. Please attempt to keep up with us.
1. Nigella Lawson and Charles Saatchi's former personal assistants — Italian sisters named Francesca and Eisabetta Grillo — are on trial for spending hundreds of thousands of the power-couple's dollars (pounds?) on designer clothes and first-class plane tickets for themselves, charging all of it onto a credit card given to them by Lawson and Saatchi for business purposes.
2. The sisters are now claiming that these perks were tacitly agreed upon by Nigella in exchange for keeping secret from her husband that she was engaging in daily cocaine, cannabis, and prescription pill use for a decade.
3. When Charles Saatchi heard that this was the tack defense lawyers were taking, he fired off an email to Nigella, which was intercepted by police, reading: "Of course now the Grillo sisters will get off on the basis that you, [and daughter] Mimi were so off your heads on drugs that you allowed the sisters to spend whatever they liked…And yes, I believe every word they have said."
3a. Keep in mind, Nigella and Charles had a gruesome divorce last summer, after tabloid photos showed him choking her in public during an argument on a restaurant patio.
4. Saatchi later backtracked on the email in court, saying in a witness statement, "At the time of sending that email I was completely astounded by the alleged scale of drug use set out in the statement…Nevertheless, I did believe the allegations and that's what I'm referring to in the email…On reflection I was simply speculating that the sisters would use this information to defend themselves. I know there was nothing in the statement to suggest they were given permission to use the cards."
5. Defense lawyer Anthony Metzer submitted the drug use allegations in an effort to invalidate Nigella's earlier testimony, on the grounds of "bad character": "This is a matter highly relative to the defense because, in a nut shell, we respectfully submit she had a guilty secret from her husband. She did not want him to know about her use particularly of cocaine…Because the defendants were fully aware of her illicit drug use she consented to their expenditure on the understanding there would be no disclosure to her husband of her drug usage."
6. Nigella's lawyer Jane Carpenter fired back in a statement saying, "This is a totally scurrilous account which has been raised by the defense, and the timing is no coincidence at all."
What did we tell you? So many things.
Also, for those of you who, like us, have eyes: let's discuss the likelihood that 53-year-old Nigella Lawson spent a decade doing hard drugs + pot and still looks like this. Srsly?
RELATED:
Charles Saatchi Uses Teenage Daughter to Smear Ex-Wife Nigella Lawson; Accuses Cooking Star of 'Illegal Behavior'
Nigella Lawson & Husband Seek 'Swift, Amicable' Divorce After Public Choking Incident
Nigella Lawson's Husband Blames Her For Choking Incident, Files For Divorce
Have a tip we should know? [email protected]