Last-Minute Christmas Gift Idea: Nigella Lawson's Italian Cookbook (Because It's Not Doing So Well Right Now)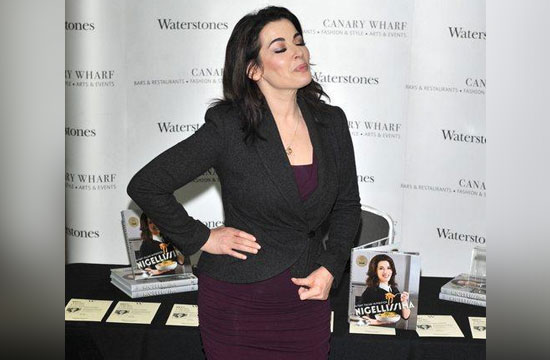 Are you having trouble trying to figure out what to get your loved ones this holiday season? Can't find your grandma a Geri-Chair? Unable to get your boyfriend tickets to the Gathering of the Juggalos? Nigella Lawson has the perfect solution: this winter, get everyone in your family a copy of her latest Italian-inspired cookbook, Nigellissima! And we are absolutely not pushing it on you because her book is doing particularly poorly on the bestsellers charts this holiday season according to the Daily Mail. No, siree.
Moms everywhere will love this book for the time-intensive calorie fatbombs that are known as "recipes," like a chocolate cheesecake with 75 grams of butter and 7,068 calories. History nerds everywhere will love this book for its loving, respectful treatment of Italian cuisine. Dudes everywhere will love it for the gratuitous pictures of Nigella Lawson.
And even better, unlike the Nintendo Wii or the iPad Mini, there will be plenty of copies of Nigellissima to go around: ever since her book was published in September, Lawson has only moved 161,823 copies — only two-thirds of what her previous book Kitchen sold, and nowhere near the top 10 cookbooks being sold in the UK. In fact, Jamie Oliver's 15 Minute Meals is outselling her, leading the Mail to speculate whether Lawson's days as a culinary icon were waning: "Last week alone Mr Oliver's book sold 117,911 copies last week alone, while Nigellissima shifted only 17,757."
So what are you waiting for? Go to Amazon and order everyone in your family a copy of Nigellissima! Put one under your tree, then put one in their stockings, then convert to Judaism and belatedly give your children a copy for each day of Hanukkah that you missed this year. It's that perfect of a gift.
[The Daily Mail via Eater]
Have a tip we should know? tips@mediaite.com