WATCH: Anthony Bourdain Makes Peace With Foodie Hipster Scum On No Reservations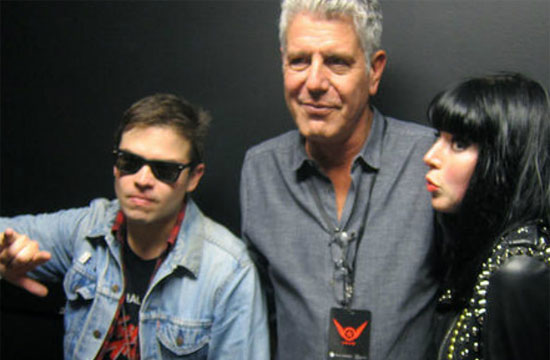 We admit, we weren't sure what Zero Point Zero was thinking when they decided to tape an episode of No Reservations in Austin during the South by Southwest festival. We predicted that Anthony Bourdain would be crushed to death under a herd of rabid hipster foodies asking him to sign their legs in order to better preserve his autograph as tattoos, and had an obituary ready to run just in case. ("Anthony Bourdain, 56, Killed Like Mufasa.") We were wrong.
"Of course,  I'm exactly the wrong guy to DO a South By Southwest show," he admitted on his blog, though he explained that his team liked the challenge of filming a frenetic, music-packed episode around meals. And the fact that SXSW is disaffected youth central was not lost on him, though it eventually led to a revelation and acceptance:
…As I was painfully aware, time and again, finding myself sitting next to kids 1/3 my age talking about music.   It would have been much more age appropriate, I think, if I'd been selling them drugs.  Put it this way: when I was their age? I would have robbed me.

In the end, I made my own, private peace with hipsters I think.  God love them—they're the driving force behind just about every restaurant we want to eat at these days—behind (almost) every positive development in food.  We may think we've seen quite enough ironically bearded cooks with pig tattoos on their forearms? But let's face it: we need them for our guanciale.  I'd still rather eat in a loud restaurant where I can barely hear my companions over the music than eat in a room with a bunch of golfers.
He'd also been converted by Austin's barbecue, now officially Better Than Kansas City's Barbecue. Watch for some of the best moments from last night below!
Have a tip we should know? tips@mediaite.com