Confirmed: No Reservations Series Finale Set In Brooklyn With Cast Of The Wire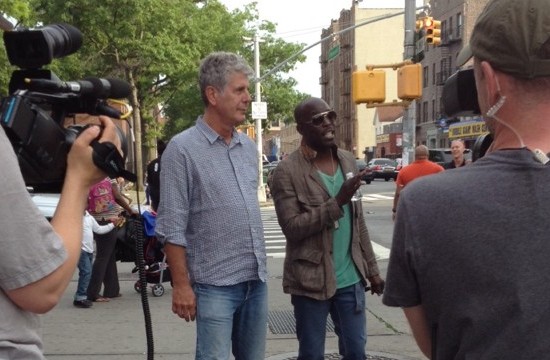 The rumors and conjectures are true, according to this morning's New York Times: the last episode of No Reservations, before Anthony Bourdain sails up the river into CNN's Hologram Room, takes place in Brooklyn!
Michael K. Williams, his dining partner for the day and a major character in Bourdain's favorite TV series The Wire, took him to a Trinidadian restaurant in Crown Heights. He observed to the Times that Bourdain was so eminently noticable, what with his lanky frame and interestingly craggy face, that "all the little kids were running after him."
Somewhere in that mystery episode, they will eat a meal of "oxtail stew, curried goat, callaloo and macaroni pie" at Gloria's Number 3, which we will probably not notice because the entire episode will be a bittersweet eulogy of a bygone era at The Travel Channel.
But when they do go to CNN, Bourdain and the Zero Point Zero Production team have no plans to make the show any different, despite worries that CNN will suck the marrow-like fun out of Bourdain's bones. "Rest assured that whatever ZPZ and I do in the future, we will not be dumbing it down, we will not change our basic natures, we will not be morphing into something we are not," he wrote in a blog post previewing next Monday's episode in Penang. "We will continue to do what we do. And have a hell of a good time doing it."
If you're really concerned that CNN will turn Bourdain into the Wolf Blitzer of the culinary world, there are nine more episodes of No Reservations to be aired, and Bourdain will shoot ten new episodes of The Layover in June and July.
(But the move does bring up one super serious question: When he moves to CNN, will Bourdain keep his Twitter handle @NoReservations, or is he going to change it, Demi Moore-style?)
Have a tip we should know? tips@mediaite.com