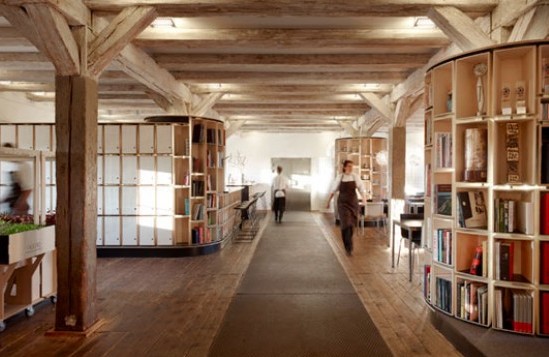 In the early days of Rene Redzepi's Noma, the staff experimented with new menu items in a lab on a houseboat behind the restaurant. As their acclaim grew, however, so did their need for a new lab, and in a profile in the Architectural Record, the firm behind the playful, innovation-inspiring lab talks about how they transformed Redzepi's work ethic into a workspace.
3XN, the firm that designed Noma's "experimentarium," not only tried to incorporate the traditional Danish aesthetic of "hygge" —  a "national obsession" that cultivates community and comfort in modest, candlelit spaces — into the lab, but also tried to make the lab a place where new ideas and collaborations would ferment like a delicious ant yogurt. Given how close the two groups were, however, it wasn't hard:
The connection between the two goes beyond mere proximity, however. Kasper Guldager Jørgensen leads 3XN's in-house research-and-development unit, GXN, and made contact with Redzepi after seeing him on TV. The architect was struck by the similarity of their positions: Both lead young, international teams focused on aesthetic and technical innovation. While Noma's chefs draw flavor from bitter roots and unripe fruit, GXN's architects and engineers develop biocomposite cladding and microperforated sunscreens.
The result: the small, 2153 sq. ft. lab is packed with books, herb gardens, and work areas, and yet spacious enough to encourage chance meetings between random people, long, ponderous walks, and cozy breaks curled up in a chair with a book from the library (or a sample from the spice library). And of course, since it's Rene Redzepi, everything is locally sourced: all of the Nordic birch and spruce plywood came from a nearby shop.
Here is a design porn slideshow of Things That You Can Never Achieve With Ikea.
Gallery unavailable
Have a tip we should know? [email protected]