NYCWFF: David Bouley Doesn't Use Butter or Cream at Bouley, Somehow Food Still Tastes Good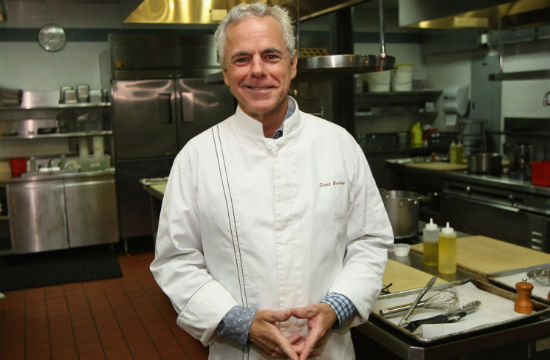 David Bouley's appearance at this year's New York City Wine & Food Festival Times Talks series reminded us that much like a painter or a sculptor, chefs develop their style over time. As of late, Bouley has been on a health kick of sorts, but in the most delicious way possible.
A combination of his travels to Japan and his work with food scientists has influenced Bouley to challenge himself to serve food with a "nutrient dense bite balance". This means no butter or cream in the food at Bouley, womp. But you still might find some fancy and imported from Normandy butter on the table (If your going to eat butter at Bouley, it's going the be the best butter). He told audiences and his interviewer Melissa Clark that "Food is either going to do good things or bad things to our DNA", so it might as well do some good, right?
Bouley has been working with fats and proteins to discover new ways to create texture without being "unhealthy". What he's come up with is the use of vegetable purées as texture. He has also been working closely with Japenese kudzu. Admittedly, I'm a little suspicious on this one, but i'm not going to mess with David Bouley's expertise.
Bouley also talked about his early days in starting up his acclaimed Bouley in TriBeCa. Since he believes that "Economics drive creativity, creativity never drive economics", the main reason Bouley opened a restaurant so far away from everything else in Manhattan in the 80's was the low overhead. But there's one other thing too – "I wanted to be far away so that people would make a trip to come see us, and really trust us with their food". Translation: he doesn't like picky eaters.
The veteran chef shared some other wisdom with us, which we preserved in the form of tweets for the sake of posterity:
"I was a student of the nouvelle cuisine but I still thought my grandmother's cuisine was better than anything else." @DavidBouley #NYCWFF

— The Braiser (@TheBraiser) October 19, 2013
.@DavidBouley "In the west, the philosophy of a chef is only 35% nature, the rest is all ego." #timestalks #NYCWFF

— The Braiser (@TheBraiser) October 19, 2013
Have a tip we should know? tips@mediaite.com