The New York Times Does The 'Lady Chef Debate' Right by Actually Asking Female Chefs for Their Opinion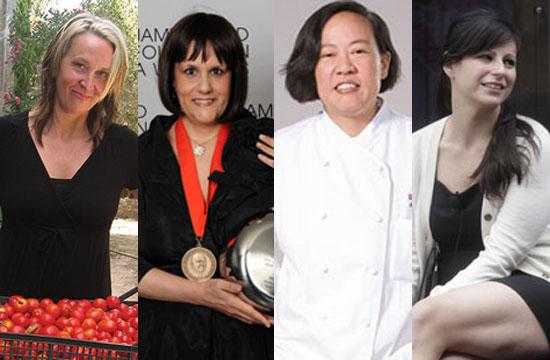 If you've been paying attention to the debate over TIME Magazine's exclusion of women from their recent "Gods of Cooking" article — and god knows that we've been watching, agape, on the sideline — you probably gawked along with us as it metastasized from oops-we-forgot-women into "I don't make the sad news; I just reflect it, like a mirror," which is a real quote a real editor of TIME Magazine said in defense of the list. Thankfully, the New York Times decided to address the issue in a way we've advocated for since our site's inception: actually ask the freaking women how they feel about the lack of female leaders in the culinary industry.
To that end, they asked Amanda Cohen, Gabrielle Hamilton, Anita Lo, and Gina DePalma to write rebuttals in their paper. Dear men — especially Howard Chua-Eoan, the TIME editor who said "The women really need someone — if not men, themselves actually — to sort of take care of each other" — note how these four highly accomplished female chefs are "taking care of each other" by argumentatively kicking your ass.
While the entire thing is worth a read (Cohen notes that women don't receive as much press coverage as men, Lo demands that female professional networks hold investors accountable, and DePalma tackles the perception that pastry is "fluff and fancy compared to the serious work" done on a hot line), Hamilton brings up a very important question:
I would, however, be interested to know what my neighbors think when they see the master kick the dog; what does the supremely intelligent and thoughtful Thomas Keller think of being on a list that excludes his influential female colleagues? How ashamed is David Chang to have allowed his beautiful talented face to appear on the cover — to represent the club that starves — or at least underfeeds — his sisters?

I believe in barking, but I am also moved by other courages. When the white person in an all-white room interrupts and shuts down the racist joke, and who refuses to go along to get along, my skin tingles. I wonder if there are male chefs who themselves feel debased and embarrassed by an industry that doesn't acknowledge sufficiently the women they work with, appear at events with, exchange business savvy and woe with, drink drinks and talk cooking with late at night after work? I think I know some of them — have any written in to say so?
Oddly, the one man who participated in this debate was GQ writer, renowned kvetcher, and Accidental Sexist Alan Richman, who "wasn't shocked" that the list existed (though he did ask why women couldn't move up the career ladder in the world's best kitchens). But the question that Hamilton brings up — what do the best male chefs think about this inequality? — is interesting, in that the one time we discovered that the best male chefs were having this debate, we also noted that they did it without asking any women. (A Twitter Vacuum Full Of Women, to be precise.)
Is it too much for us to call on male and female chefs to sit down and have a conversation about this ballooning issue, as equal colleagues on the same footing? An Internet echo chamber can amplify an issue, but hardly constitutes a conversation — and doesn't really lead to a solution, either.
But what can we say? We're dreamy feminist idealists.
[NYT]
RELATED:
Update: Eric Ripert Invites A Bunch Of Men To Tweet-Debate About Women In The Industry
Girl On Girl Action: Our Editors Go Deep Into The 'Female Chef' Debate
After Reading Amanda Cohen's Response to TIME, We Declare Her Ruler of Lady Chefs
Have a tip we should know? tips@mediaite.com