Obama Forsakes Precious Cheeseburgers, Visits Farmers' Market On Campaign Trail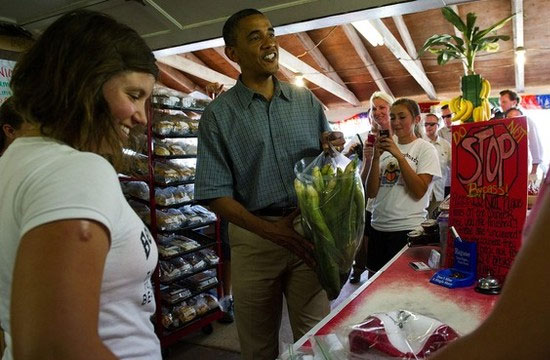 Whenever presidential candidates go a-campaigning, they're always, always, always eating stupid amounts of food. They nom on the local delicacies, nosh on every uber-fatty thing that people thrust their way, and get endlessly criticized for tiny things like putting hot sauce on gumbo at Dooky Chase's or comparing the local bakery's cookies to 7-11 drek or  taking shots of whiskey in your pantsuit. (Actually, that last one was pretty awesome.)
But it's no secret that Barack Obama's kryptonite is cheeseburgers, and that Michelle must constantly remind him that it is a Sometimes Food. That's why Obama Foodorama was shocked — shocked, we tell you! — to see Obama make an unscheduled campaign stop at the Bergman Orchards Farm Market in Port Clinton, Ohio.  And Michelle was nowhere in sight.  What a twist!
"He rarely purchases fruits and vegetables during his campaign trail outings, preferring instead to focus on cheeseburgers, ice cream, pizza, and chili hot dogs," wrote their correspondent, who was traveling in the campaign's press pool. "The last time Mr. Obama visited a Farmers Market was ahead of Halloween 2011, when he dropped by a Virginia farm stand to purchase some pumpkins, accompanied by his wife."
But he actually bought people food: "a dozen ears of sweet corn, peaches, strawberries and cherries, for a total bill of $22.70", to bring home to his family at the White House this weekend. (Maybe to celebrate Malia's birthday? It's hard being the President's daughter when you share a birthday with the country he leads.)
Somewhere in Ohio, a cheeseburger sits, waiting for a presidential incumbent who will never arrive, to tear into its juicy patty and fluffy bun. A closer look, and the rivulets of juice, the drips of melting cheese, resemble tears.
Have a tip we should know? tips@mediaite.com