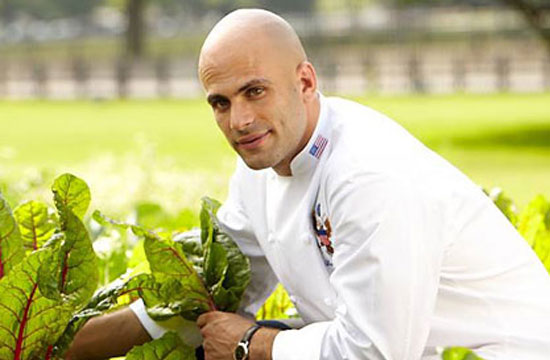 And they ate at Roberta's, because that's what Brooklynites do.
Former White House chef and Washington D.C. studmuffin Sam Kass is officially a New Yorker, which means that we now get to see Kass adapt to the wildlife in Brooklyn. Which means lunch dates with Adam Platt, restaurant critic at New York magazine. Oh, and foraging through Brooklyn's online farmers markets. It's a treat.
Our favorite lines:
Compared with the scruffy, wool-capped warehouse staff, he still exudes a professional Washington, D.C., sheen. His jeans are pressed, his boots polished.
Swoon.
No, he won't comment on the president's favorite junk food or his least favorite vegetables. He will say that, despite Obama's lean physique, the president likes good food, though "he just doesn't like froufrou, fancy food—if he can't tell what it is, he's generally not interested." Yes, Michelle has a special fondness for kale, though, like all devotees of the seasonal and the local, the Obamas tend to eat whatever is at its peak. "The family enjoys healthy food, but they're not health nuts," he says. "I never served any flaxseed at the White House, with all respect to flaxseed."
THANKS OBAMA. Just kidding, we also are not for flaxseed.
So what is Kass up to these days besides chilling in Brooklyn like a neatly-pressed boss? According to New York, he wants to stay in the private sector while keeping up some more State Department-official gigs. But the best part of it: he's "looking at a few TV opportunities." Minds are blown. Sam Kass, Food Network star. Right next to Diners, Drive-Ins and Dives, right?
Kidding!
Have a tip we should know? tips@mediaite.com