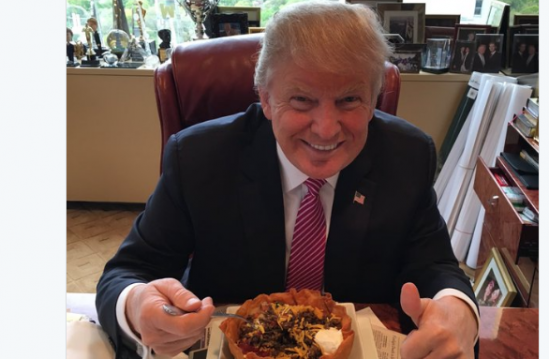 Cinco de Mayo is a holiday that commemorates Mexico's victory over French forces at the Battle of Puebla in 1862. It's also a holiday where many celebrate the grand tradition of eating too many tacos and drinking too much tequila. Today, none other than Donald "I'm building a wall and Mexico is going to pay for it" Trump has, not surprisingly decided to make the holiday about himself and his business.
Happy #CincoDeMayo! The best taco bowls are made in Trump Tower Grill. I love Hispanics! https://t.co/ufoTeQd8yA pic.twitter.com/k01Mc6CuDI

— Donald J. Trump (@realDonaldTrump) May 5, 2016
Buzzfeed's Andrew Kaczynski questioned how much truth there was to the Tweet (it was probably the 'I love Hispanics' piece of it that made him wonder), and did some research:
Just got off phone with Trump Grill, says they don't serve taco bowls. It's not on the menu online.

— andrew kaczynski (@BuzzFeedAndrew) May 5, 2016
He's right. The tacos are not on the menu at the grill. But, as it turns out, Taco Bowls are a thing at the Trump Café in New York City, at least on today's menu. Judd Legum clarified:
Don't be a taco bowl truther https://t.co/IOVvRnLtEM pic.twitter.com/PPWAFNU49n

— Judd Legum (@JuddLegum) May 5, 2016
Trump may love Hispanics, though if he does, he has a really weird way of showing it. Even so, they don't love him back. These feelings will not be improved by Trump's self-involved Tweet. First of all, Cinco de Mayo is a Mexican holiday, not a generally Hispanic one. Second of all, a Taco Bowl is an extremely watered down version of Mexican food. Also, the ones at Trump Café aren't even good. Though today the café is calling it a Taco Fiesta(!), usually the item appears on the menu as Beef Tacos. According to Eater's Robert Sietsema, the dish is "a fried tortilla bowl heaped with romaine lettuce, grated yellow cheese, and plain ground beef that was so devoid of flavor, it rendered an insult to Mexicans every bit as profound as Trump's previous pronouncements. Trump food is bland food."
And here's the best comment of all, from Facebook: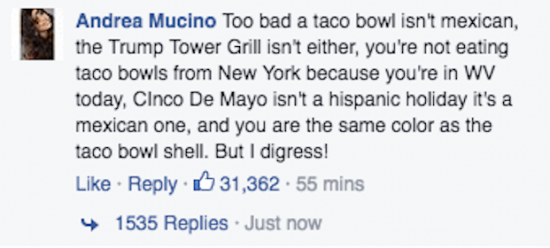 Mic drop.
–
Have a tip we should know? tips@mediaite.com