Meet The Olympic Gold Medalist Who Worked For Rene Redzepi And Daniel Boulud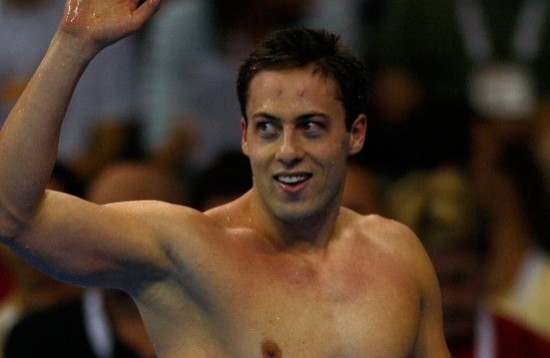 After he and his teammates won a legendary freestyle relay race in the 2008 Beijing Olympics, Garrett Weber-Gale found himself a few years later ripping through a pile of green behind a cold shed. But unlike his teammate Michael Phelps, he wasn't inhaling marijuana — Weber-Gale was working in the "austere" kitchens of Rene Redzepi's Noma, and with little available to help him maintain his athletic muscle mass, he'd resorted to eating dozens of foraged plums and piles and piles of lettuce.
"I was eating lettuce like crazy at Noma," he told Food Republic in an interview about his (surprisingly) extensive culinary experience. "For one dish, all they wanted was the salad root. You take the tough, dirty part off the outside of the root and then shave it really thin on a mandolin and use it in the salad. They don't need the leaves, so they're throwing away boxes and boxes of salad. I would be outside after they brought in all the roots, pounding these heads of lettuce because I was so hungry and it was the only thing there."
He probably didn't starve when he staged at Daniel Boulud's New York restaurant, whose owner sparked Weber-Gale's interest in haute cuisine after they met on the set of The Today Show in Beijing, nor when he worked at the three-star Michelin restaurant Maison Troisgros. He does, however, want to use his stature (not everyone is a gold medaling Olympian) and his experience to help people eat healthier, drawing upon his own experience learning how to cook after he'd been diagnosed with high blood pressure. Before that, though, he should probably qualify for the Olympics this week.
Have a tip we should know? tips@mediaite.com