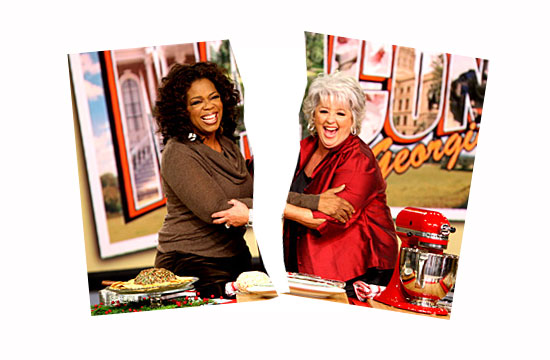 Once upon a time, Paula Deen and Oprah Winfrey were close friends and confidants. Deen would appear on Oprah's shows, Oprah would warn Deen about the dangers of announcing your diabetes diagnosis and your diabetes medication sponsorship on the same show, they'd have sleepovers in Oprah's mansion, etc. Then Paula Deen admitted to using the "n-word" in a deposition, the world collectively lost its mind, it prompted a massive national discussion about race relations in America, and Oprah stayed uncharacteristically silent, which left us wondering where Deen's bestie was now. Could Oprah's silence be construed as support for Paula Deen?
Oprah cleared that right up in an interview with Parade Magazine about her upcoming film The Butler, giving an unequivocal answer without referring directly to Paula Deen (classy lady): "You cannot be my friend and use that word around me," she said.
"It shows my age, but I feel strongly about it," she elaborated, adding: "I always think of the millions of people who heard that as their last word as they were hanging from a tree."
TMZ speculated that she also was using the incident to refer to harsh comments made by Rae Dawn Chong, her co-star in The Color Purple, in which she referred to Oprah as a "field n**ger". But her blanket condemnation of the n-word gives us enough flexibility to apply this to Deen's case — and, given Oprah's media savvy, it's quite likely that this is all she wants to say on the subject without officially giving a statement about Deen.
At once, she not only shut down any speculation that she tolerates Deen's boorish behavior, she also indicated that she would not use her status as The World's Most Powerful Black Woman to help rehabilitate the potentially irreparably tarnished Paula Deen image. (Hey, she's tried once, and she's currently expending her efforts on Lindsay Lohan. Oprah generally doesn't give up on lost causes — unless, of course, they use the n-word.)
RELATED:
Oprah Warned Paula Deen That People Would Criticize Her Drug Endorsement
Paula Deen Asked Her 'Soul Sister' & Cook Of 22 Years To Dress Like Aunt Jemima
The Neelys Respond To Paula Deen Scandal
Have a tip we should know? tips@mediaite.com