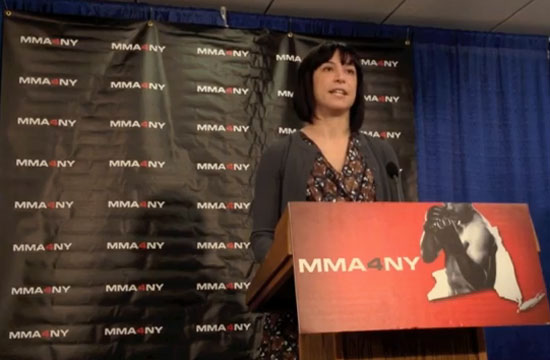 Yesterday in Albany, NY, Ottavia Bourdain joined a group of women in a press conference arguing for the legalization of mixed martial arts (MMA) in the state of New York — and, as we speculated, it was to counteract rumors that the State Assembly Speaker Sheldon Silver (D-Manhattan), recently involved in a serious sexual harassment case in his own party, would kill any attempt to legalize the sport to appease women's groups. (Best burn of the day, courtesy of attorney Jennifer Bonjean: "The UFC and … other promoters of MMA are no exception to that rule … but neither are they a club of rapists, any more than the general Assembly is a club of sexual harassers.")
Bourdain argued that MMA fighting did not exacerbate violence against women and children, as groups like the National Organization of Women claimed, rather that it empowers women. She spoke about her own experience discovering MMA and, in an adorable twist, how her daughter begged to take martial arts classes instead of ballet at the tender age of four.
"I'm speaking to you as the mother of a little girl who is the most precious thing I have, and I would do anything to protect her," she said, according to the Times-Union. "And I wish I could always be with her and hold her hand at every moment of her life, but unfortunately I know I can't — and that's why I'm glad she's doing martial arts. She's learning how not to be afraid."
Check out this video below, courtesy of Politics on the Hudson, of Bourdain admitting the awkwardness of wrestling with sweaty men (which is why women should be allowed to fight each other, yeesh)!
[Times-Union, Politics on the Hudson]
Have a tip we should know? [email protected]