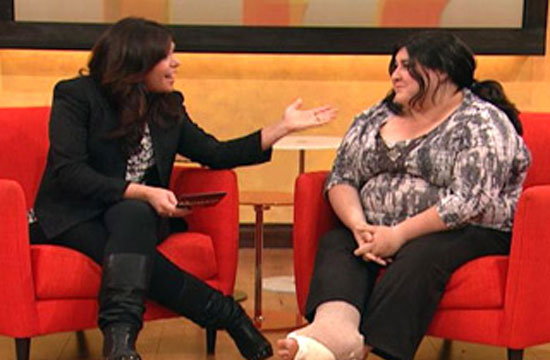 Everything we've ever thought about Rachael Ray has just irrevocably and totally changed with news of a paradigm-shifting lawsuit, one that reveals that the happy, catchphrase-spouting TV sprite could actually be a sadistic monster.
The victim of Ray's alleged cruelty, Christina Pagliarolo, demands justice. The 260-pound teen is suing Ray, "for negligence and intentional infliction of emotional distress", that she suffered after appearing on The Rachael Ray Show, hoping to lose 70 pounds before prom. In the segment, Ray hooks Pagliaroco up with a personal trainer.
But it was not just any trainer, no. According to her lawsuit (reprinted in The Huffington Post), this trainer was a deranged sicko:
Pagliarolo claims the trainer made her run and hike mountains, and yelled and screamed at her…One time when she was on the StairMaster, the trainer kept upping the speed and then yelled at her when she fell. She claims these training sessions left her with leg injuries.
Indeed, all the blogs about her appearance are just filled with demeaning comments, like this one from a cruel, anonymous cyberbully named Blanche106:
"Your courage, your good spirits, your ability not to let it derail you is awe inspiring. You go girl! I have no doubt whatsoever that you will lose as much weight as you want when you want and will keep it off. You're on track for a great life! I can see why you're one of Rachael's heros!"
Christina, you poor girl.
Here's a clip from The Rachael Ray Show, in which Christina works out with said trainer. Though there are no mountains or StairMaster torture devices, you can really see the evil in this peppy personal trainer's eyes:

"We haven't received this purported lawsuit but if it does materialize we will defend ourselves against it vigorously and fully expect to prevail," said Josef Goebbls The Rachael Ray Show's reps in a confused statement.
We have written a poem about Pagliarolo's suffering, so we may never forget Rachael Ray's inhuman treatment:
First they told us to do Burpees, and we said nothing, for we were not in boot camp.

Then they told us to run laps, and we said nothing, for we were not marathoners.

Then they told us to climb on the StairMaster, and we said nothing, for we did not want to climb up real stairs.

Then they screamed at us to push through and finish that last set, but by then, we could not say anything, for we were really out of breath.
Have a tip we should know? tips@mediaite.com