US Congressman Allegedly Caught Having Sex in Brooklyn Bar; Makes Bar Famous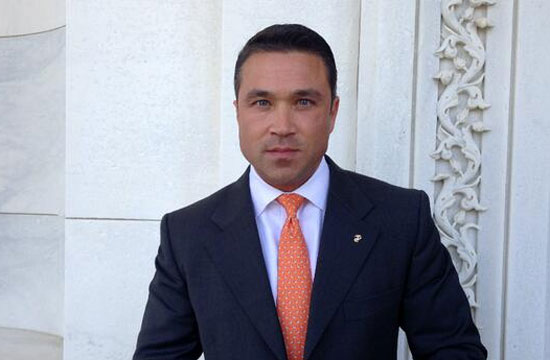 Because hating on Congress is a national pastime at the moment, we found ourselves obligated to bring you this juicy story, in which a member of the esteemed House of myopic shit-stained lemmings Representatives was spotted spending 17 minutes in the bathroom of an upscale Brooklyn Bar with a lady. And since this happened the Friday before the shutdown, this makes Rep. Michael Grimm (R-NY11) responsible for everything bad that ever happened in Washington, ever.
This has also made The Owl's Head, a wine bar in Brooklyn's Bay Ridge neighborhood, sex-scandal famous! Here's the sequence of events, according to The New York Post, one of America's most morally-upright journalistic institutions:
The weekend before the government shutdown, Staten Island Congressman Michael Grimm took time out to sneak into the bathroom of an upscale Brooklyn wine bar with a comely gal pal — for a suspected 17-minute sex romp, sources told The Post on Tuesday.

"It just so happened a couple people [at the bar] knew exactly who he was and kept an eye on him,'' said one source, a Brooklyn Democratic political operative [emphasis ours] who received a phone call from one disgusted eyewitness.
We're not sure if the disgusted eyewitness was actually "disgusted" or "just from Brooklyn," because he then said this:
…"[The bar] is a place you go to for a quiet, romantic glass of wine, not a congressman having a tryst in a bathroom."
Grimm, a singleton who apparently should have gone clubbing in Manhattan, denied the event via a spokesman. Without confirmation, we guess we're just going to have to hate him for other things.
And congratulations to the Owl's Head for joining the ranks of political sex scandal locations! With a few more Congressmen, you can be as famous as the Mayflower Hotel or the steps of the US Capitol.
[NYP via Robicelli's]
RELATED:
Congressmen Caught Boozing, Should Name the Newest #FakeDCBars 'Looming Shutdown'
Bryan Voltaggio Refuses to Give Free Pizza to Congressmen Until They 'Get [Their] S*** Together'
GOP Attempts to Fund FDA During Shutdown, Democrats Block It; We Live in Backwards-Land
Have a tip we should know? tips@mediaite.com