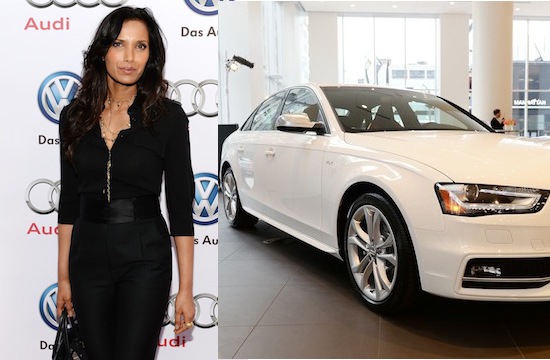 We've covered the insane sponsorship machine that is Bravo's Top Chef ad nauseam, but it's interesting to us when a "lowly" food personality snags an endorsement deal that'll surely rake in the shekels. This week, Padma Lakshmi attended an Audi dealership grand opening, but given the press release we received about her appearance and a tweet with the hashtag #spon, we think it was more than just a social visit.
A stylish feline at the open road Audi and VW launch! #spon instagram.com/p/ZJoKiupXFL/

— Padma Lakshmi (@PadmaLakshmi) May 10, 2013
We can't think of anything that #spon would stand for, other than "sponsored" and we certainly see Padma as the kind of celeb who'd want her followers to be warned before she puts payola up in her Twitter feed. She tweeted nearly the same thing back-to-back, potentially meeting a three-Tweet agreement.
All the fancy people love Audi in the night. @tubahoodingjr theroots #flee instagram.com/p/ZJsBnqpXKy/

— Padma Lakshmi (@PadmaLakshmi) May 11, 2013
All the fancy people are at Audi in the night. @tubagoodingjr theroots #flee #queesniftheflees instagram.com/p/ZJsVMEJXLK/

— Padma Lakshmi (@PadmaLakshmi) May 11, 2013
According to talent booking site CelebrityTalent.net, Padma pulls in a minimum appearance fee of $25,000. While she's no Kardashian when it comes to splashing brands across her wedding pregnancy Twitter feed (Kim pulls in a reported $10,000 per tweet), there are other niche celebrities getting four-digit paychecks per tweet.
SponsoredTweets.com reports that comedian Michael Ian Black pulls in $6,500 per tweet, ex Playboy bunny and E! reality star Holly Madison claims $2,600, and Biggest Loser mean girl Jillian Michaels charges $3,250 per sponsored tweet. If these stars all share the same "list" as Padma (we don't want to call it C, but but it's definitely not A. B-minus?), then she brought in at least $30K on her "fancy people" night out with Audi — the sum of her appearance fee and our guess at what she could charge to tweet.
Take a look at Padma's night at the office in the gallery below.


[imageviewer id=3161]


Have a tip we should know? tips@mediaite.com