WATCH: Padma Slams Josie & Bourdain, Reveals Top Chef-testants She'd Hook Up With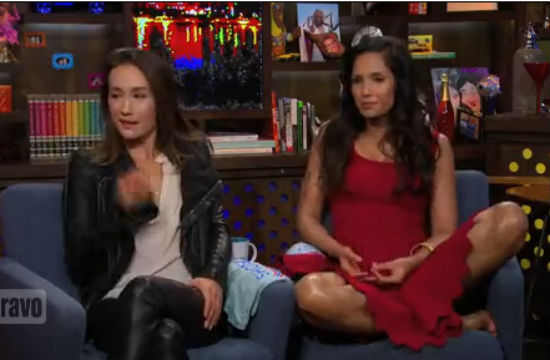 Last night's Watch What Happens Live packed in so many very excellent moments that we don't really know where to begin. We suppose we have sick Padma Lakshmi to thank: she took a massive Nyquil shot before the episode to help tame a sore throat, which resulted in what can only be described as some serious funsies.
First, on a serious note, Dale Talde, who was manning the bar, reveals that he had a sneaking suspicion Kristen Kish's Restaurant Wars elimination was imminent. Thankfully, Andy breaks up all that seriousness by quizzing Padma on which Top Chef alums she'd hook up with in a game called "Would Padma Haveya?" Her answers may or may not surprise you, depending on how intimately familiar you are with her. Chefs up for judging: "Malibu Chris" Crary, Harold Dieterle, Jeff McInnis, Kevin Gillespie, Marcel Vigneron, Michael Voltaggio, Paul Qui, Angelo Sosa, and Howie Kleinberg. There are more yeses than nos. Just check out the clip below.
Then, controversially eliminated Top Chef-testant Kristen Kish calls in, leading us to believe there might have been some sort of awkward confrontation between her and Padma. Instead, Padma admitted:
"Believe me, I would rather eat your food any day of the week than Josie's food, but I couldn't judge you differently than I judge every other challenge…You know she's a weak link — I'm not saying the weakest link, maybe she is — on that team. You need to be more specific when you have somebody like that on your team and don't leave anything to chance. And you know that."
As for Kristen taking the fall for Josie? Would judging have gone differently if she had stuck up for herself and explained Josie's shortcomings? "You wouldn't have told us anything we couldn't have guessed already," Padma reassured.
Well, at least we're not the only ones pissed that Josie's still around… Check out the clip below.
And, finally, the after-show provided such gems from Padma as, "Anthony Bourdain has some fucking nerve" and props for Dale Talde's "finger-lickin' good… Asian stoner food." Also, did Dale just get set up with Miss Philippines? Check out parts one and two of the after-show below.
Have a tip we should know? tips@mediaite.com