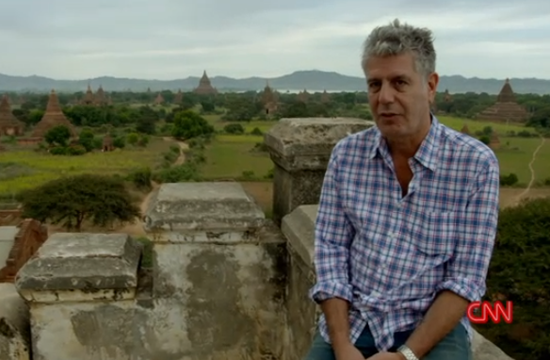 With the arrival of Parts Unknown on CNN last night, we'd wondered whether Anthony Bourdain had recaptured that ol' Bourdain TV magic. Sure, Parts Unknown is the television baby of an intelligent network with a prestigious (despite Wolf and Piers!) brand and Bourdain's curiosity-driven anarchy gonzo journalism, but there was, as there always is, the chance for failure. Heck, he'd just come off a really prominent failure.
But back in the real world, among people with compelling stories about being imprisoned by the Myanmar junta, playing rock 'n' roll, and willing to push salad (salad!) in his face, instead of…Greg…Bourdain looks like he's thriving. What was missing from the later iterations of No Reservations — and what's in abundance here — is an actual, live connection to current events, and the rejection of the old, underlying Rules Of Travel Shows:
Thou Shalt Make Thy Visiting Country A Haven From The Real World. (Instantly rejected with footage of a dead monk from the 2007 anti-government protests, as well as sound bytes from Obama's historic visit earlier last year.)
Thou Shalt Not Express Ambivalence At The Tourism Industry. (Ruined, when Bourdain and his boss Philippe Lajaunie wonder if it's a good thing that children are dropping out of school to sell tourist tchotkes.)
And of course, there's the all-important Thou Shalt Not Talk About Depressing Shit Like Starvation And Imprisonment, which…well, this clip below is ample proof:
To continue: no travel show, ever, would feature an acclaimed food writer — and point out that she was accused of being an apologist for a brutal military regime. Or have a frank discussion about censorship. Or — well, we're giving away everything at this point. But it's surprising how much the audience learns throughout Parts Unknown — and how much Bourdain can get out of an interview — while eating a salad of tea leaves.
Not to mention, it looks like Zero Point Zero has some shiny new toys. For instance, how many times does their new slow-mo camera pan over the Burmese countryside? When did they get helicopter aerial shots of the ancient (and nearly-abandoned) temple complex of Bagan? And that title sequence! It looks like it utilizes all of the CGI!
OPENING PACKAGE
Some of the most memorable moments from No Reservations came when Bourdain's natural curiosity collided with the reality of living in some exotic locale — from his willingness to shoot a hog point-blank in Cajun County, to the time he accidentally started a hunger riot in Cuba. With the new mandate from his bosses to start making news documentaries and not "entertainment," Bourdain's Parts Unknown is — we're not sure, really. It's not a travel show anymore (because there sure as hell aren't any travel packages to the Congo). It's not a self-important news magazine (try getting Lesley Stahl to agree with her interview subjects that yes, Creed sucks). But we do know it's a place where his inquiring mind really does have a home.
Parts Unknown airs on Sundays at 9 PM EST. You can watch the full Myanmar episode here.
Have a tip we should know? tips@mediaite.com