Tonight on Food TV: Parts Unknown Makes 'Magic' in Copenhagen, Says Anthony Bourdain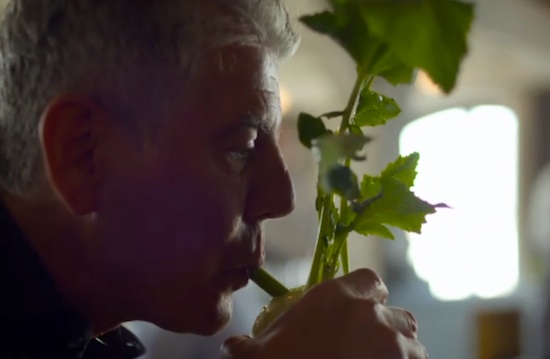 In all of his travels, Anthony Bourdain isn't known to be starstruck much. But from the looks of this week's Parts Unknown, our boy got a few stars in his eyes while touring the restaurant that put Copenhagen on the map, Noma.
Just look at what Bourdain had to say on his Tumblr about filming at Rene Redzepi's restaurant, named three-time World's Best Restaurant. Calling the foraged meals at Noma "genuinely brilliant and delicious," Bourdain and his team decided to get a little creative with how they shot their time at the restaurant — because "we felt we had better live up to our subject."
"We started off by deciding that there would be no standard "two shots" during conversations. That the cameras would move freely, literally suspended by wire from an uncomfortable contraption called an EZ Rig—for every single shot. That we would push our cameras through spaces large and small while thinking about Terence Malick at all times. …

… [We] would tell our entire story over the course of one meal—at one restaurant—cutting back and forth through time and space.

Producer Tom Vitale was heroically suicidal in the risks he took with this episode.

Cinematographers Zach Zamboni and Alan Jacobsen did amazing work. The show looks like nothing we've ever done before. And editor Hunter Gross took what we shot and made magic.

Needless to say, it was quite a challenge.

But what came out of that editing room is, I think, a masterpiece."
Erm… hyperbole much?
So you know, if you think tonight's Parts Unknown is overrated, then you're criticizing art, you idiot. Check out the scenes from Parts Unknown's venture to Copenhagen — did Bourdain et al. really make a "masterpiece" out of tonight's episode?
RELATED:
New Mexico Offended After Anthony Bourdain Slanders Their Virtuous Frito Pie
Parts Unknown Gets Renewed for Season 3
WATCH: Anthony Bourdain Discovers the Secret to Social Media Fame (In-N-Out)
Have a tip we should know? tips@mediaite.com