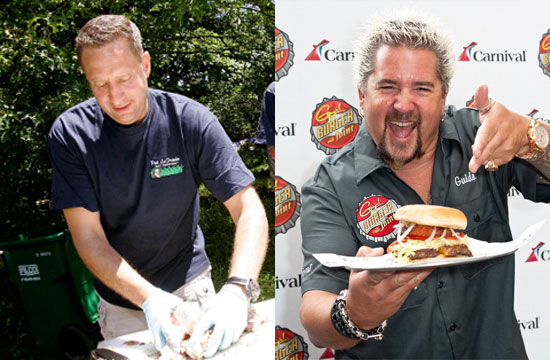 When we spotted Pat LaFrieda at protein bacchanal Meatopia, New York City's most famous butcher stood, mountainous, over a Black Angus steer splayed on an enormous grill the size of three pool tables, tearing chunks of cooked meat off its bones using his hands. (We may have eaten four plates of the soft, fatty brisket, doused liberally in honey barbecue sauce.)
Apart from his extraordinary skill at butchering animals and the development of his "meat empire," LaFrieda's renown comes from the hamburger blends he creates for many of the country's top restaurants and burger joints. Among his most famous burger customers: April Bloomfield, The Minetta Tavern (who serves the legendary Black Label burger), and Shake Shack.
With the news that LaFrieda would be supplying Guy Fieri's burger meat for his new Times Square restaurant, opening today, we had to wonder what up with that, and asked him: What would a company known for pulverizing expensive, dry-aged ribeyes into burger meat, make for a dude like Guy Fieri?
"Truth of the matter is, we're still going back and forth with samples," he told us, cautious not to reveal too many secrets behind his client's special blend. "We're not sure exactly where it's going to wind up, but I can tell you, it's gonna be something very different in flavor from anything else."
How so?
"Well — the muscles that we've used so far are ones that…out of the thousand customers that I have, people haven't asked me for, to use as grinds. And I started to play around with them because I like to eat them by themselves, and I started grinding them, and I gave them samples, and it went off well. So it looks like that's the direction we're going in, and we haven't gotten the green light yet, so, yeah, the blend's in the works."
Though he wasn't sure then when the restaurant would actually open, he wasn't worried about being able to supply the 500-seat restaurant. "Quite frankly, they could tell us in a couple hours to make first delivery, and we could make it. We work six days a week, 24 hours a day."
Have a tip we should know? tips@mediaite.com