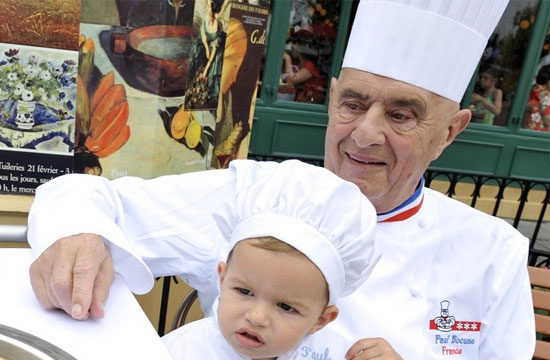 As the Bocuse d'Or approaches, the Wall Street Journal sat down with Team USA for lunch at a very unusual place: the restaurant of the man who started the competition. And legendary French chef Paul Bocuse himself just happened to be there, too, telling them to make it to the podium "or else [I'm] going to shoot you." Wait, what?
In a lengthy profile that ran today, it's revealed that Bocuse himself has a vested interest in seeing the USA take home the gold, which is so strong, that he could command his protégé Daniel Boulud to recruit Thomas Keller to run a foundation that would train a champion. (Unsurprisingly, the two renowned chefs immediately and instinctively responded "Oui, chef.")
Part of his love for les Américains might have to do with the fact that his life was saved by a transfusion of American blood during World War II (true story! USA, number one in blood!). But ultimately, as the WSJ reporter finds out, it's all about expanding the Bocuse brand — the first true "celebrity chef" brand and, no doubt, one of the largest in the world:
Chefs like to say Bocuse was the first "to step out of the kitchen," meaning he parlayed his charm into brand power, then parlayed that brand power into a lucrative culinary empire. In Lyon, Bocuse opened so many restaurants that city officials named a market after him. In the fashion of Donald Trump, he became famous just for being himself. He showed that chefs could be as rich as their owners and the guests they're serving. And even as his empire grew, he never altered his persona. "He might fly around the world on private jets, but he's always the same Paul from Lyon," says Jerome Bocuse, his son…

The chef-impresario also understands that the U.S. is the biggest media market in the world, and the best way for the Bocuse d'Or to tap into it is for an American chef to succeed in the competition. And if the Americans couldn't develop the right kind of organization to support and train a chef, Bocuse would do it himself.
Clever. Very clever. Shrewd, even. Dang, he's good. The only problem we foresee in his US media expansion is that the 86-year-old can't scream as loud as Gordon Ramsay.
Oh well. USA! USA! USA!
[WSJ]
Have a tip we should know? tips@mediaite.com