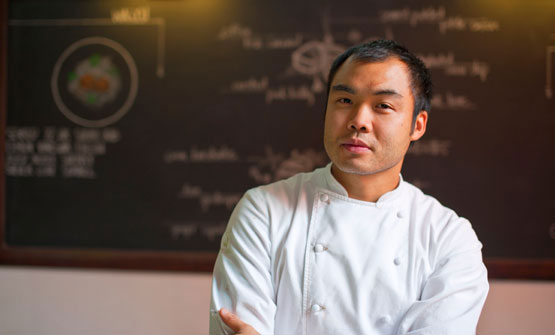 Paul Qui is a busy man. Fresh off his James Beard win and in the midst of opening two new restaurants, we caught up with the Top Chef Season 9 winner at the Food & Wine Classic in Aspen this weekend. Here's what he had to say about bacon, eating at Noma, and taking revenge on Masaharu Morimoto.
Is it your first time at the Food & Wine Classic?
It's my first Food & Wine, first time to Aspen. I've got a demo at 2PM on dashi. We're gonna talk about soy a little bit and different uses for dashi.
You're opening a couple of your own restaurants. Where are you in the process?
Well, it's all going to be a bit of a surprise. I'm being really vague with it.
Okay! So what's the learning process been like on that?
I opened Uchiko from scratch with Tyson Cole [owner and chef], so it's starting to feel normal. But it's exciting for me. There's a learning curve on the business side of things, so that's what I'm trying to focus on. The food I'm more comfortable with, everything else is definitely a little bit trickier.
Do you have any advice or words of wisdom for other chefs who might want to open their own place?
I guess just read everything you put your name on. Read everything you can. Make sure you read everything you're signing.
In winning Top Chef, you had a very quick rise to fame. Was there an upside or a downside to that?
I think it's all upside, at this point. I guess I've been fortunate as far as not getting over-exposed, in a way. And I'm enjoying that Austin is getting a bigger spotlight as well, in the food scene.
First you win Top Chef, then you win the James Beard Award for Best Chef: Southwest. Did that feel validating?
Absolutely. I did not expect to win the James Beard. Actually, the year they cast me for Top Chef, our restaurant group got four nominations. I got one, Uchiko got one, Tyson [Cole] got one, and Philip [Speer, Uchiko's pastry chef] got one. And that's the year they cast me. Everything has happened at the same time and I'm still trying digest it. I still don't know what's going on, really. Like, I just want to be back in my kitchen. I never thought I'd do Top Chef — it was never something I thought was in my cards. It just kind of happened. At first, I was very resistant to it — you can ask Tyson or Phil — but I'm starting to embrace and enjoy it. I'm starting to see the bigger purpose for what I can accomplish with that win — the James Beard — and with what I can contribute to the Austin and Texas food scene.
Would you ever do another food TV show?
Uhhhh, I don't know. I'd probably do Iron Chef again. I did it with Tyson as a helper, but I'd like to be the Iron Chef, as the challenger. I'd like to avenge him against [Masaharu] Morimoto, I think that'd be fun. Other than that, I wouldn't want to do any cooking competition shows. I wouldn't mind traveling and eating, but I'd rather be in a restaurant, cooking.
What was it like filming Royal Pains?
It was a little weird. Somebody just contacted us and Bravo said it was cool. I didn't have to do anything weird or crazy. I just had to be in the background, so I was like, 'Okay.' I figured I'd do it.
If you could go to any restaurant in the world with anyone, and with any budget, where would you go and who would you eat with?
Of course, I'd probably have to try Noma, and I'd probably go with Deana [Saukam, his girlfriend] because she is the backbone to my operation. She's supported me throughout the years, through everything that's happened and is happening right now.
Actually, what I ended up doing with a chunk of the Top Chef money is traveling and eating, right before I open my restaurant. That's what I'm doing right now. It's been ongoing for the last couple months. I started off at the Derby in Louisville, went to New York for the Beard [Awards], after New York I flew to Paris for three days, then London for a few days. Next week, I'm going to Vegas, then I'm going to Copenhagen and I'm going to do Noma there. Then I'm going to go Spain in August, then Japan. I'm going to go to Tokyo.
I'm actually going to Japan to stage at a restaurant. I don't know what it's called but it's in a small town near Hiroshima. I actually still need to go book my tickets. My partner at East Side King, he's from a small town near Hiroshima as well, so I'm going to go visit his hometown and he's going to show me around. Apparently they have the best fish in the world. And then I'm going to go work with a friend of ours in a small kaiseki-style place, just to learn, just to work for a week or so.
Speaking of which, have you been following this whole culinary imperialism debate?
I think there's always an upside, particularly if you're going to another country to learn. I mean, what is American cuisine, if you want to define it? Everybody here cooks other types of cuisine and what makes it American? Well, the ingredients, what you put into it, and the regional aspects of food. But all in all, it's all American food. If I'm cooking here, it's American. If I ate at the Atelier St. Germain in France — half of [Joel Robuchon's] ingredients — I mean, he had an egg roll, a dumpling, something with soy sauce, something with wasabi, something with yuzu. But wouldn't we still classify it as French food? As a chef, it's a desire that we have to learn and educate ourselves on different cultures and food. I mean, I don't care where it's from as long as it tastes amazing in my mouth.
What was the first thing you learned to cook?
Ha, this is going to be pretty funny. The first thing I learned to cook is bacon. In a microwave. 'Cause my mom used to work all the time, so my mom and my step-dad, they would take me to Costco and buy whatever frozen food for me. And one of the first things I learned to cook was bacon in between paper towels in the microwave, to make it nice and crispy.
Related:
Paul Qui To Make His Acting Debut On Season Premiere Of Royal Pains
David Bouley And Paul Qui Make Bon Appetit's List Of Best New Sushi Restaurants
Have a tip we should know? tips@mediaite.com