Paula Deen to Open Post-Scandal Store with Replica of Her Kitchen, We're All 'Stop, Just Stop'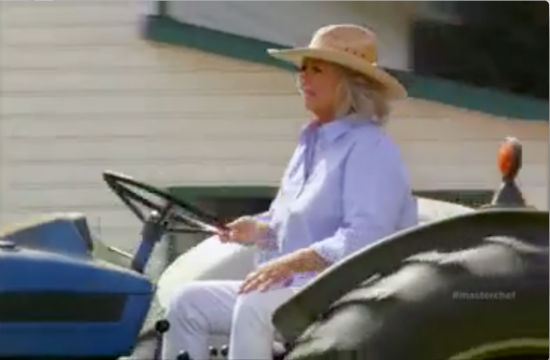 Barely six months after the racism scandal that leveled her career, Paula Deen is attempting to rebuild her once-mighty empire by opening a Deen-branded store in the quiet, white-friendly town of Clarence, NY. And you thought Deen would slink off into the night, maybe take a year or so to regroup and reflect on how racist she was back in May. Hah, what? Paula Deen and introspection? What a concept.
The Paula Deen Store, opened in conjunction with the Clarence-based Nanco Foods, will open on February 8th and feature a showroom with a replica of Paula Deen's home kitchen, as well as her line of prepared foods. This partnership with Nanco will also help Deen elbow her way back into American retail stores. As the Syracuse Post-Standard reports:
Paul [sic] Deen Foods currently markets such products as tortilla chips, crispy fried onions and baking mixes, including her "Ooey Gooey Butter Cake." The deal with Nanco will enable Deen to market foods in stores like Target and Wal-mart. Nanco is a major supplier to stores like Tops and Wilson Farms…
The opening party will also be an indicator of whether people will actually pay money to be in a room with Paula Deen: tickets are $60 for a cooking demonstration, and $250 for a VIP lunch with the dough-yenne. We trust that our readers can come up with better ways to spend that kind of money — like, say, throwing it in an open fire pit. At least the fire pit won't call you the n-word.
[Post-Standard h/t Grub Street]
RELATED:
Paula Deen's Discrimination Lawsuit Dismissed
Paula Deen's Semi-Return to the Food Network Pushed to September
Paula Deen Asked Her 'Soul Sister' & Cook Of 22 Years To Dress Like Aunt Jemima
Have a tip we should know? tips@mediaite.com