Paula Deen: Corporate Endorsement Was A Sign From God To Go Public With Diabetes Diagnosis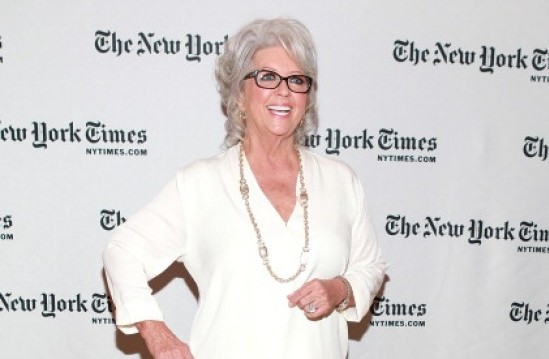 There were moments during Paula Deen's TimesTalk on Saturday, moderated by the New York Times's Kim Severeson, where she came across as the sweetly ignorant, well-meaningly awkward Southern grandmother that everyone, somehow, has in their lives. For instance, as the Huffington Post paraphrased it, she argued "that white people in Georgia are actually less racist than people in the North, because they've always lived in such close proximity to blacks. She noted that one of the people on her staff that she feels closest to was black, and called him up on stage to prove it."
(Hooray, awkward diversity/racism/weird societal gray area!)
But her defense of her controversial endorsement of a diabetes medication with Novo Nordisk — announced in the same breath as her revelation that she, too, has diabetes — just boggles the mind. Not an angry mindboggle, granted, but just — you'll be boggled:
As she recalls it, her initial response to her diagnosis was denial. She just didn't believe that she had the disease. Eventually, more tests by doctors convinced her that they were right — but even then, she didn't feel ready to go public, because she was still "absorbing it."

Plus, she felt confident that God would send her a message when it was time for her to tell her story to the world.

"To say I'm a very religious person, I can't say that, because I don't go to church. But I'm a very spiritual person. I knew that the opportunity to share would present itself," she said.

That opportunity ended up coming in the form of an unsolicited call from the marketing division of pharmaceutical giant Novo Nordisk. Deen says they had no idea that she had diabetes herself. They just wanted to partner with her on a website of diabetes-friendly recipes. She wondered how they knew that she had diabetes, given that she'd kept it a secret from almost everyone outside her family and friends. But it turned out they didn't. So she told them — and, as she recalls, "they just about fell out of their chairs."
To recap: God talks to Paula Deen through multinational pharmaceutical corporations.
Deen went on to say that she couldn't understand the anger hurled at her after she announced her diagnosis (though to be fair, Oprah did warn her, and you cannot ignore Oprah, ever).
Look: we're incredibly concerned with the state of the American diet, and in that faith, we can't simply dismiss her efforts to show Americans how to eat healthier. We're happy that she and her husband have lost a collective 100 pounds between the two of them (though now he no longer looks like Ernest Hemingway). We're especially happy that she's such an evangelist for moderation (even if we didn't believe she was at first), and that she looks the part.
But we would really appreciate it if she could please stop being so darn naive about the words that come out of her mouth. Because every time she says something related to health, it sounds like she is promoting the exact opposite of what we think she means. For instance, this interview with the Chicago Tribune, in which the reporter wonders what happened to his vegetables at her restaurant:
Q: Of course, green beans can come served with a pool of butter.

A: I don't worry about that. The benefit of eating vegetables far outweighs a stick of butter.
That sounds really bad.
She might be able to take her message to more people if she overcame the cognitive dissonance that plagues everything she says, and realize that sometimes, people take her statements the wrong way — especially if they're inclined to hate her. (And let's be fair: the haters have been piling up for years.)
We're not saying that she needs to begin speaking with the legal precision of a Supreme Court Justice. She just needs to Reagan herself.
Have a tip we should know? tips@mediaite.com