Lawyers Release New Defense Of Paula Deen's Racism: She's A Southern Old Person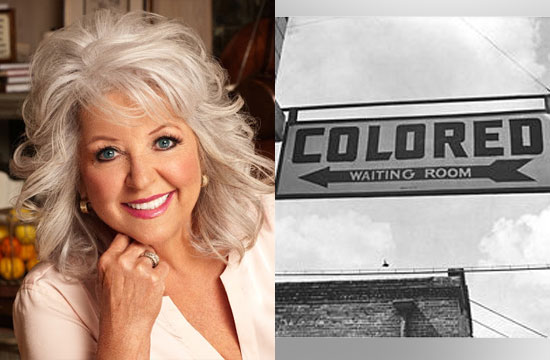 The Paula Deen Buttery Racism Train chugs on with a statement from her lawyers, in response to her extremely concerning statements about black people (which you can catch up on here and here.) TMZ, who first published the latest statement, summed it up in perfect TMZ style: "My N-Word Excuse … I'M OLD."
Surprisingly, that hyperbolic headline is a very succinct summary of the actual statement:
"During a deposition where she swore to tell the truth, Ms. Deen recounted having used a racial epithet in the past, speaking largely about a time in American history which was quite different than today. [Paula] was born 60 years ago when America's South had schools that were segregated, different bathrooms, different restaurants and Americans rode in different parts of the bus. This is not today.

To be clear Ms. Deen does not find acceptable the use of this term under any circumstance by anyone nor condone any form of racism or discrimination."
While her actual deposition seems to contradict her lawyers' statements (Paula doesn't say the n-word, but it's totally okay when other people do, y'all), there's a reason that the majority of modern America — despite having a healthy respect for our elders — still get turned off by that one older relative who keeps using the n-word to refer to their African-American neighbors, or wondering why there are so many Jews in banking, or freaking out about the Japanese long after World War II ended.
The thing is, reminding people that they were once second-class citizens (or, in this case, property) due to things way beyond their control, like, say, their race, is a dick move. (We would elaborate, but as we learned yesterday, race discussions on food blogs are not the easiest maneuver to pull off.)
Oh, and TMZ pointed out that the bank robbery where Deen referred to her assailant using the n-word happened in 1986 — which, uh, was a really long time after those days when it was in any way acceptable. So, yeah. We'd also like to point out that if  Civil War-era vampire Bill Compton has never used the N-Word once, we think Paula Deen can handle it.
[TMZ]
Have a tip we should know? tips@mediaite.com