VIDEO: Paula Deen on Herself 1 Year Ago (After That Nasty Discrimination Lawsuit and Brouhaha): 'I Was a Woman in Trauma'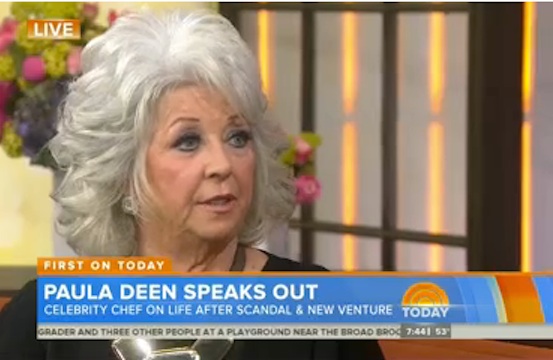 In anticipation of her brand-new (but not really) new online network launch, Paula Deen stopped by the Today show for a chat. If you can recall just a year ago, when the world was shocked by allegations of some nasty racist comments, her first chat with Matt Lauer was … not quite as sincere as she might as hoped (and perhaps the worst grammar that we've ever heard in our life). This time around, Deen and her sons had the talking points down — well, if you can get past some of the weirdness.
Naturally, the actual launch of the Paula Deen Network was barely discussed. Lauer did mention the news that Deen and the network had bought back all of her Food Network video footage and shows, while Jamie and Bobby Deen answered that they paid "more than $20" for all of it. (Hardy har har.) But really, this was the Paula Deen apology tour. A couple of the major bombs dropped in the segment: first, Deen admitted that her last appearance on the Today show maybe wasn't her best idea. After Lauer called out her discomfort levels at watching the old footage and re-run of history, Deen said she couldn't watch it — and that she should have been "in the care of a doctor." From the segment:
"I couldn't even look back at parts of it, … because I didn't recognize that woman. That was a woman in trauma — I would say in shock — trying to understand why that happened. And you know the cold hard fact, Matt, is, I probably should not have been here. I probably should have been at home under the care of a doctor."
When asked whether she understood why sponsors had to drop her (Lauer may have called her "radioactive in the business world"), Deen said, "I did, but I have to say it took me a while, because I was confused as to the length of times those words had been part of a a language. I had a hard time understanding because it had been 30 years."
But, uh … wait, what? Not exactly.
Lauer, in the hopes of giving her a chance to begroan how wrongly she's been treated and all that jazz, asked whether she was upset that the lawsuit eventually got dismissed (we had to remind ourselves of that fact, too) and not covered nearly as much in the media. Said Deen, "The statement that was released at the end, got almost no attention; the statement was very powerful and very different."
Deen, her sons, and Lauer covered the meaning of true friends and cynicism, in which she called herself "naive" and "childlike." When asked what the true lesson of the Racism Gate 2013 was, Deen said:
"I've learned so much over the year, it's going to require another book. [Editor's note: Hoooooooo boy, we should have seen that teaser coming.] But we are working on a documentary, because everyone needs to know the full entire story … [The documentary will] only be on the Paula Deen Network. I've learned so much when I sat quietly with my own thoughts. The most powerful thing — and I thought I knew it, because i've talked about it before — it's the power of words. I don't care how old they are, words are so powerful. They can hurt, they can make people happy, [and] my words hurt people. They disappointed people. And frankly, I disappointed myself, and for that I'm so sorry. I'm so sorry for the hurt that I caused people, because it went deep. It went deep … people lost their jobs. It went into corporate America. I'm here to make people happy, not to bring sadness."
"It seems like sitting next to a different person than I was sitting next to in June 2013," said Lauer at the end of the segment. Funny, seeing how his colleagues and panel of "experts" ruled her career near-dead last year after the lawsuit was dismissed. Surely the outcomes change when you get scoops for interviews, right?
You can check out the segment below.
Visit NBCNews.com for breaking news, world news, and news about the economy
RELATED: The Paula Deen Online Network Is About to Launch, Here's What It Will Look Like
WATCH: Paula Deen Smooches Barnyard Animals
Fancy, Probably Soulless Execs Debate the Potential Success of Paula Deen's Subscription Network
Have a tip we should know? tips@mediaite.com