WATCH: Paula Deen Reacts To Food Network Firing, Anderson Cooper Grills Her Former Publicist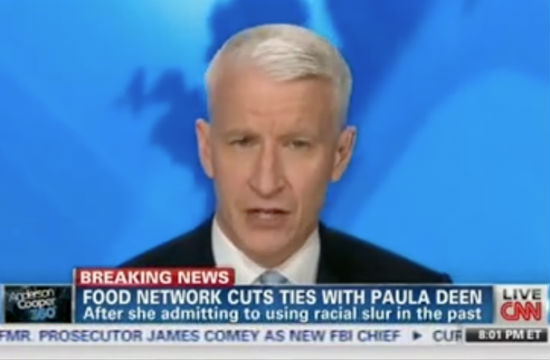 Anderson Cooper (and by Anderson Cooper, we mean CNN at large) spend the top of last night's Anderson Cooper 360 picking apart the Paula Deen scandal, with plenty of experts on hand, including her former publicist of 6 years, Nancy Assuncao.
He kicked off the show by sharing the statement Paula Deen released last night in response to her official shit-canning from Food Network. The statement reads:
"I would like to thank The Food Network for 11 great years. Because of the gift The Food Network gave me, I have had the pleasure of being allowed into so many homes across the country and meeting people who have shared with me the most touching and personal stories. Again, this would not have been possible without The Food Network. Thank you again. Love and best dishes to all of y'all."
Then, Assuncao was introduced, largely defending Paula's honor, and claiming that she never heard Paula tell any race-tinged jokes. She went on to slam Deen's current PR team for completely mishandling the scandal.
"They should never have agreed to the Today Show," Nancy insisted. "I don't think she was coached right."
Another Paula defender, Professor Boyce Watkins of Syracuse University, and founder of YourBlackWorld.com chimed in, "I see her as the Charles Barkley of cooking."
Pretty sure Charles Barkley fan Eddie Huang would take issue with that, but sadly we can't drag him into every cable news talking head segment, even though he's awesome at it.
Check out parts one and two of the AC360 segment below.
Have a tip we should know? tips@mediaite.com