Paula Deen Starts 'Bag Lady Foundation' To Help Impoverished Women And Children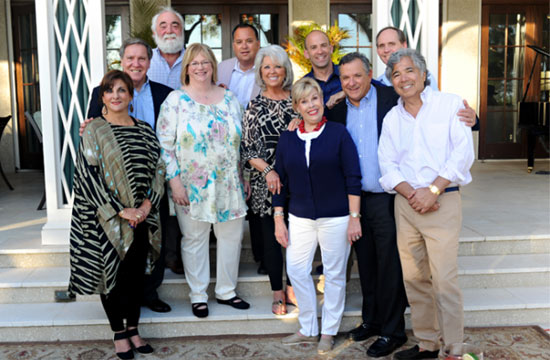 Our little Grinch-hearts feel really strange right now. See, our professional identity requires us to be baffled and occasionally outraged by the antics of one Paula Deen; Butter Queen, Donut Dame, Our Lady Of Perpetual Awkwardness, etc. But yesterday she announced that she would start a foundation specifically to assist "women and families in need", in part by "aid[ing] individuals, communities and like-minded organizations to empower those facing a range of challenges resulting from poverty."
Oh gosh. Do we actually approve of The Bag Lady Foundation? There are so many questions.
Are we actually sort of impressed by the way Deen managed to pull herself, as well as her two children and miscreant brother, out of poverty? And are we even more impressed that she managed to stay out of poverty — a feat that, unfortunately, half of formerly-impoverished families can't accomplish? While we start staring into the void of Paula Deen-related questions, here's a mini bio from the foundation's website that explains the source of its name (in a use that's less uncomfortable-making):
In 1989, after her marriage of 25-years ended in divorce, she was left with only $200 and money was tight raising both her kids and her younger brother, Earl ("Bubba"). She tried hanging wallpaper, working as a bank teller, selling real estate and insurance. She then started a catering service, making sandwiches and meals, which her sons Jamie and Bobby delivered and named it, "The Bag Lady."  Deen's home business soon out grew her kitchen and from there…the "Deen dream" took off.
Are we amazed that Ethel Kennedy, widow of Robert F. Kennedy and notable philanthropist, approves of Paula Deen? Are we shocked that an elegant Kennedy described Deen as a blend of "Dolly Parton, Wolfgang Puck and Mother Theresa"? (Is that almost the most accurate way we've ever heard someone describe Paula Deen? Can we make ourselves feel better by calling her one mean thing? Can we even think of a Mean Thing to call her?)
Do we hold Paula Deen in higher regard for partially funding her own foundation using proceeds from Paula Deen Foods, rather than simply taking money from other corporations and foundations? Has Paula Deen's new charitable work shaken the framework on which The Braiser has built itself upon? Are our paradigms shifted?
'Scuse us, we have some deep soul-earching to do.
Have a tip we should know? tips@mediaite.com