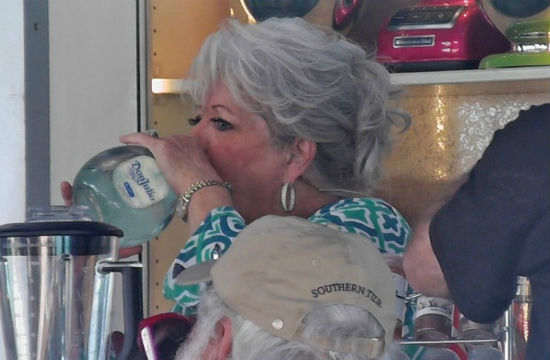 (Image via Splash News)
Paula Deen's been having a rough go of it since deciding that the best way to make a triumphant comeback to the festival circuit scene was to ride in using Robert Irvine as her own personal ponyman and repeat her racism apology "to those who did not hear me." But before her appearance, she was snapped by a photog backstage taking what looks to be a hearty sip of Don Julio tequila to steel her nerves.
While normally we'd be all "go grrrl, get on with your top shelf self," Paula Deen has repeatedly stated that she doesn't drink, most recently after two kooky, back-to-back segments on The Today Show and CNN, both promoting last year's South Beach Wine and Food Festival. Speculation erupted, wondering if the Food Network personality had been day-drinking, due to her weird, slurry, dancey appearances. But Paula's reps maintained that she was simply sleep deprived. We were willing to buy that explanation then, because it was pre-The Buttery Racism Train, and we had heard Paula on numerous, unrelated occasions say that she doesn't drink.
But, uh. That Don Julio photo. The desperation in her eyes. Have we mentioned yet the decision to ride Robert Irvine like a pony? If it looks like a tequila-swilling casual racist and it smells like a tequila-swilling casual racist…?
[Gossip Extra h/t Grub Street]
RELATED:
WATCH: Giada De Laurentiis, Paula Deen, And Al Roker's Best Gordon Ramsay Impression At SoBe Wine & Food Festival
WATCH: Is Paula Deen Drunk In This CNN Interview, Or Just Sleep-Drunk?
Paula Deen Makes Comeback Atop Her Noble Steed, Robert Irvine
Have a tip we should know? tips@mediaite.com